Austin Peay vs. Eastern Illinois
Saturday, December 30th, 2017 | 4:30pm CT
Clarksville, TN | Dunn Center

Clarksville, TN – Following a tough loss to open Ohio Valley Conference play, Austin Peay State University women's basketball team looks for their first conference win 4:30pm, Saturday, December 30th, against Eastern Illinois.
The Governors struggled offensively against SIU Edwardsville shooting an uncharacteristic 27.9 percent from the floor going 3-18 from beyond the arc.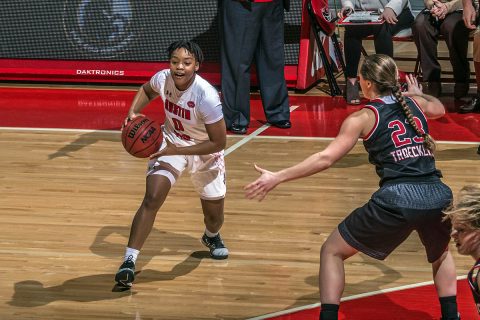 Falon Baker led the Govs with nine points, three rebounds and three assists. The Govs defense shined against the Cougars forcing 26 turnovers and collecting 14 steals.
The quick turnaround allows for the Govs to find offensive rhythm again hosting the Panthers of Eastern Illinois. The Governors also lost their nonconference opener before rattling off seven straight wins for the first time since the 2003-04 season, behind the offensive performances of Baker, Keisha Gregory, Brianne Alexander and Bri Williams.
Gregory is currently leading the team in almost every category, averaging 11.1 and 5.5 rebounds per game while shooting 57.1 percent from the field. Gregory has scored in double digits for seven of the 12 games the Governors have played this season.
Baker adds 9.9 points per game shooting 35.0 percent from beyond the arc. Alexander averages 8.3 points per game and 3.1 rebounds, while Williams leads the team in assists with 48 and steals with 20 so far this season.
The Govs are facing a 1-11 Panther team whose only win in nonconference play came against Evansville Nov. 18. The young Eastern Illinois squad is currently shooting 35.5 percent from the field averaging 59.6 points per game. The Panthers rely on the leadership and offensive presence of their two seniors Grace Lennox and Jalisha Smith.
APSU Storylines
Conference Opponents
Austin Peay split the two meetings with Eastern Illinois last season winning on the road January 14th, 69-59 and narrowly dropping their game at home on February 18th, 78-72.
Series Structure
The Govs lead the EIU series 24-17, winning 12 matchups in Clarksville and 10 on the road.
Balanced Offense
The Governors balanced offense includes: Gregory (11.1 ppg), Baker (9.9 ppg), Brianah Ferby (9.2 ppg) and Alexander (8.3 ppg).
Snapping the Streak
The Govs look to snap their four-game losing streak against a Panther team that is winless on the road this season. Both teams are looking for their first OVC win.
Follow the APSU Govs
Be sure to follow all the Austin Peay women's basketball action at LetsGoPeay.com and the official Facebook page of Austin Peay Athletics. In addition, live play-by-play coverage can be found on Twitter (@AustinPeayWBB) and live video can be found at OVC Digital Network.