APSU Sports Information

Clarksville, TN – In their fourth-straight home game, Austin Peay State University women's basketball team outlasted Southeast Missouri, 66-65, in a nail biter Saturday.
Austin Peay (10-5) had an explosive first quarter, jumping out to a nine-point lead behind Falon Baker's eight-point effort. Keisha Gregory added five points as the Governors scored 10 points off of six Redhawks' turnovers.
The Govs looked to penetrate the Redhawks' zone early, shooting 10 free throws in the opening period.
The Govs second-quarter shooting woes continued against Southeast Missouri, but despite struggling from the floor, Austin Peay only had two turnovers in the period and held the Redhawks to 13 points, taking a three-point lead into halftime.
Coming out of the half, the Governors looked to extend their lead.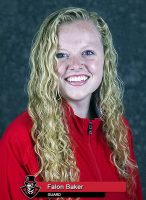 The Govs offense was rolling early in the third quarter, as the Govs shot 41.7 percent from the field, with Michaela Campbell and Falon Baker padding the Governors lead with five points each.
Southeast Missouri made a run in the third quarter, driving into the lane and forcing fouls from the Governors defense. The Redhawks scored half of their third-quarter points from the stripe.
Keisha Gregory led the Governors in the fourth quarter with seven points, as Baker added six points, four from the free-throw line, while playing six minutes in the final period with four fouls. Foul trouble forced head coach David Midlick deep into his bench, playing 12 of his 14 available players.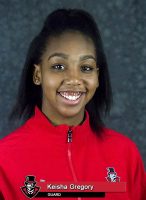 Southeast Missouri went 11-13 from the foul line in the fourth quarter, and had an opportunity to send the game to overtime after Kaley Leyhue was fouled taking a three-point shot with seconds to go in the game. Leyhue made 2-3, and the Governors were able to hang on to a one-point lead for their third-straight league victory.
Falon Baker led the Govs with 19-points and two assists, with Keisha Gregory putting up her first double-digit performance since returning from a shoulder injury, scoring 12 points, pulling down seven rebounds and dishing out four assists.
Michaela Campbell scored 10 points off the bench, boasting her second-straight game with double digits.
Game Notes
Austin Peay led from start to finish against Southeast Missouri, never relinquishing the lead after Bri Williams hit the opening shot.
There was one tie in the game when Southeast Missouri fought back to level the score at 57 apiece.
Baker led all scorers with 19 points. One point away from her career-high 20 points, set November 27th, 2015 at Vanderbilt.
Keisha Gregory led the team in rebounds (7) and assists (4).
The Govs scored 25 points off of 19 Redhawks' turnovers.
The Govs are on a three-game winning streak, moving to 3-1 in Ohio Valley Conference play
Catching up with coach David Midlick
Adjusting at Game Time
"With Ashton unavailable tonight for SEMO, we worked to jam it into the paint so that they weren't able to get as many outside shots. We played a little more zone in the second half than we would have, if she had been playing."

Winning the Turnover Margin
"We focused on making it a priority, making sure that a pass was sure before we passed the ball to somebody and I feel we have done a good job of that in the UT Martin game and tonight's game as well."

Upcoming Road Swing
"We have to clean up fouling and not send teams to the free-throw line 41 times, and we have to get tougher on the defensive end. On the positive side, after a tough first loss, for our ladies to come back and put together three-straight victories, I am proud of them and proud of their effort even when things are not going their way, finding a way to come out on top."
Next Up for APSU Women's Basketball

The Governors will take their winning ways on a four-game road swing, beginning 5:30pm, Thursday, January 11th, 2018 at Tennessee Tech.
Sections
Sports
Topics
APSU, APSU Athletics, APSU Basketball, APSU Sports, APSU Women's Basketball, Austin Peay State University, Bri Williams, Clarksville TN, David Midlick, Falon Baker, Kaley Leyhue, Keisha Gregory, Lady Govs, Michaela Campbell, Ohio Valley Conference, OVC, Redhawks, SEMO, Southeast Missouri, Tennessee Tech