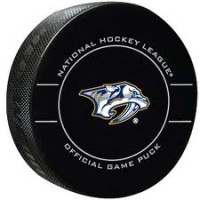 Clarksville, TN – The Nashville Predators completed their western swing tonight with a 4-3 win over the Los Angeles Kings. Nashville managed to pick up 3 of the possible 6 points available during this series.
Tonight, all eyes were on Austin Watson who scored two goals for the Predators at the Staple Center. Roman Josi and Scott Hartnell also scored for the Preds and P.K Subban had two assists on their way to a much needed victory.
Pekka Rinne made 26 saves on the night, but was left exposed by sloppy defensive play from his teammates and still managed to keep Nashville in the game.
Joman Josi scored the first goal of the game on the power play at 15:08 of the first.
The Kings tied it on an unassisted goal by Adrian Kempe at 6:43. A sloppy turnover by P.K. Subban gave Kempe the wide open opportunity that brought the Kings even at 1-1.
Scott Hartnell gave Nashville the lead, 2-1 at 11:53 of the second period when he skated down the middle of the ice and Ryan Johansen made a backhand pass from the goal to Hartnell who lifted a beauty over the shoulder of Kings goalie, Jonathan Quick.
Austin Watson made it 3-1 finishing off a 4 on 3 rush to the LA Goal for the 13th of the game for Nashville.
Trevor Lewis for the Kings cut the lead to 3-2 at 3:56 of the third period.
Enter Austin Watson once again, who scored his second goal of the game at 5:05 to put Nashville up 4-2.
LA came right back at 8:24 when Tyler Toffoli made it 4-3 Predators.
After surviving a fast and furious finish on the Nashville Netminder, the Predators had won the game as time expired.
Nashville is 5-0-3 in their last eight games at the LA Kings.
Too many critical penalties plagued the Predators once again, leaving Nashville short handed at critical points of the game.
A sloppy turnover by P.K. Subban led to an LA goal by Adrian Kempe who had no problem scoring past an open Pekka Rinne.
Nashville returns home Tuesday night and will try to solve the riddle that IS the Las Vegas Golden Knights. Nashville has lost to the Golden Knights both times they've played each other.
Sections
Sports
Topics
Austin Watson, Clarksville TN, Las Vegas Golden Knights, Los Angeles Kings, Nashville Predators, P K Subban, Pekka Rinne, Predators, Roman Josi, Ryan Johansen, Scott Hartnell