APSU Sports Information

Nashville, TN – Steve Harris scored a career-best 20 points but it couldn't offset Belmont's second –half three- point shooting as Austin Peay dropped an 83-59 Ohio Valley Conference decision, Saturday night, at the Curb Event Center.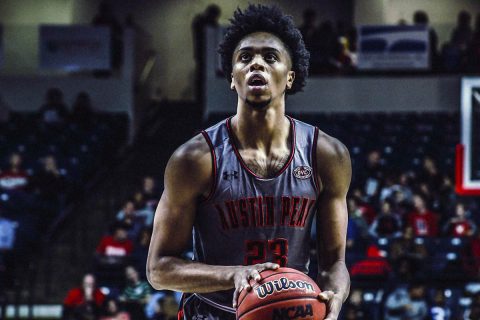 The loss dropped the Govs to 10-10 overall and 5-3 in the OVC while first-place Belmont improved to 15-6 overall, 7-1 in the OVC.
Harris, starting in place of an illness-stricken Dayton Gumm, scored double figures for the first time in 12 games with his first career 20-point outing on 7-of-15 shooting. Unfortunately, he was the only Gov in double figures.
Meanwhile, Belmont, which scored the final five points of the first half to lead, 31-26, at intermission, connected on 9-of-13 from three-point range in the second half.
Belmont was so hot from the three point-point line in the second half that even a student, Tucker Brown, hit a midcourt shot at the 8-minute timeout to earn tuition for a semester.
The Bruins finished 14-of-24 from three-point land, seven coming from junior forward Dylan Windler, who had 31 points. Four other Bruins also scored in double figures.
The Difference
Belmont converted 9-of-13 three pointers in the second half. With Gumm out of the lineup, the Governors went 0-of-3 from three in the second half. As a result, a five-point halftime deficit grew to double digits during the early stages of the second half. APSU finished the night just 1-of-10 from three while Belmont scored more than half of their points from behind the arc.
Notably
For the first time in 15 games the Governors started a different lineup. With Gumm out sick, junior Steve Harris started in his place at guard. The rest of the starting lineup remained the same: Tre' Ivory, Chris Porter-Bunton, Terry Taylor and Averyl Ugba.
The Govs offensive struggles that started at Tennessee State continued at Belmont in the first half. After shooting a season-low 31 percent against TSU, APSU shot just 9 of 26 (34.6 percent) in the opening half against the Bruins. They were better in the second half, making 12 of 26 shots (46 percent).
Austin Peay were out-rebounded by Belmont, 34-30, ending a streak of nine straight games—seven in the OVC—winning the rebound margin.
With his 20-point outing, Harris surpassed his previous high by five points—he had a 15-point outing against Alabama A&M, December 2nd, 2017.
On his 20th birthday, freshman center Ivan Cucak scored a career-best six points on 2-of-3 floor and 2-of-3 free-throw shooting in a career-high 13 minutes. Cucak had family members from Canada witness his season-best performance.
Terry Taylor's streak of 11 straight double-figure scoring games ended with his nine-point outing. The OVC's second-leading rebounder also was held to just four grabbed caroms.
The Govs scored 59 points, meaning it was the second straight game less than 60 points. The previous time that happened was in the season's first two games when they tallied 54 points and 49 points against Vanderbilt and Virginia, respectively.
Belmont's 14 three-pointers made represented a season high against the Govs. The previous high was 11 three different times.
The Govs were credited with a season-low five assists. It was the fifth time this season—all losses—the Governors dished out single-digit assists. In fact, in both Nashville games the Govs were credited with less than 10 assists—they had nine against TSU.
Next Up for APSU Men's Basketball

After a 1-3 road trip, the Governors will return home, Thursday, January 25th, 2018 to face Eastern Kentucky in a 7:00pm contest.