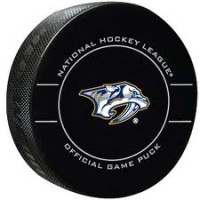 Clarksville, TN – The Nashville Predators completed a four game homestand with a resounding victory over the visiting New York Rangers, 5-2. Nashville has now won eight of their last ten games with the Bridgestone Arena win.
Predators goalie Pekka Rinne showed why he is one of the elite goaltenders in the NHL, stopping 20 shots and picking up the victory. The win is his seventh straight.
The game was a physical affair with the Rangers losing both Marc Staal and Jimmy Vesey in the second period.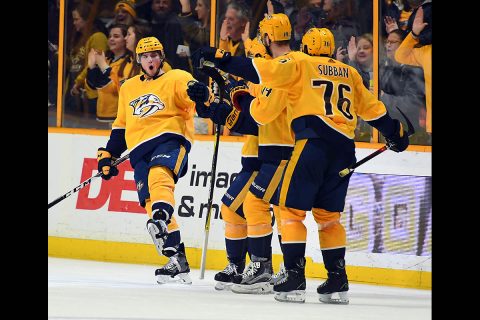 At 8:48 of the second period, Nashville's Alexei Emelin appeared to drive New York's Marc Stall's head into the boards but there was no call made on the play. Stall would leave the ice and not return.
Then, just 20 seconds later, Jimmy Vesey took a hit from Filip Forsberg and appeared to be bleeding from the mouth, but again, there was not penalty called. Both players were listed as having upper body injuries
Rangers coach Alain Vigneault was visibly upset at the "no calls."
P.K. Subban started the Nashville scoring just 19 seconds into the second period when he took a Filip Forsberg pass from behind the Rangers goal and netted the one-timer for the 1-0 lead.
The Rangers would come right back with what appeared to be the equalizer from Peter Holland at 10:14 of the second period, but after a challenge from Nashville coach Peter Laviolette, the ruling on the ice was overturned. Nashville still lead, 1-0.
Kevin Fiala put the Predators up 2-0 at 17:34 of the second period with a wrister, that beat Henrik Lundqvist in goal for the the Rangers. This was Fiala's 14th goal of the season.
New York wasn't going away as J.T. Miller opened the third period with a goal off of a pass from Mats Zuccarello just 21 seconds into the final frame. The Rangers trailed 2-1.
Colton Sissons, who scored against the L.A. Kings on Thursday night, gave Nashville a 3-1 lead at 2:36 of the third period on a redirection shot from P.K. Subban. Sissons now has five goals on the season.
New York would make it 3-2 on a one-timer from Mika Zibanejad at 14:35, but Nashville's Viktor Arvidsson would give the Predators a two goal cushion just 16 seconds later to make it 4-2. It was Arvidssons 17th goal of the season.
Fiala would score his second goal of the night on an empty netter at 17:56 for the final score, 5-2.
Nashville goalie Pekka Rinne had his shutout streak ended with the Miller goal at 171:46.
The Rangers are 1-5-0 in their past six games and Henrik Lundqvist made 23 saves in the loss.