Clarksville, TN – Within the Wilbur N. Daniel African American Cultural Center at Austin Peay State University, located in Clement 120, a select group of African-American undergraduate students participate in a mentoring program called the Achievers and Scholars Initiative.
The purpose of this program is to ensure the academic and personal success of African-American males, while increasing the University's retention and graduation rates for this student population.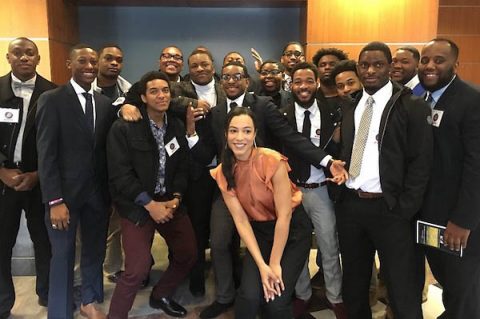 Earlier this month, 14 members of this program, accompanied by three graduate students and four mentors, went to the University of Tennessee, Knoxville, for the 13th Annual Black Issues Conference.
The theme of this year's conference was, "A Dream Affirmed: From the Past to The Present." Angela Rye, an on-air commentator for media outlets such as CNN, BET, MSNBC, and TV One, served as the keynote speaker for the conference.
The depth of her dialogue and expertise ranges from political campaigns to more complex legislation that bears long-term implications nationally and internationally.
At the conference, attendees had the option to attend a number of sessions, ranging from topics of "In The Sunken Place: When You See Yourself On The Big Screen" and "This Is My Campus Too: A Conversation On Black Millennial Women," to "Getting In Our Own Way: The Degradation of Student Organizations."
"I sat in on the 'In The Sunken Place' session, and it opened my eyes to some things that I may have noticed but often overlook, particularly the idea of being the token black person of an organization or places," Deiontae' Trotter, an APSU senior, said.
After the sessions, attendees convened in the auditorium to listen to the keynote speech by Rye. She spoke about her upbringing, with both of her parents being activists, as well as how that shaped her today. She discussed how African-Americans should place capital in as many black-owned banks and businesses as possible. This is to not only support but to give them the capital needed to stay afloat against their competition. Rye often referred to the "sunken place" that one might fall into and need to escape in order to make a change and affirm the dream.
The APSU students attending the conference included:
Jaylon Long
Courtney Covington
Malik Smith
Donya Tannel
Sam Sprewer III
Nicholas Gunter
Emmanuel Williams
Montravius Maclin
Darrion WileyHunt
Jatavious Dobson
DanQuan James
Mark Thaxton Jr.
Kameron Stott
Damarcus Graves
Jaylon Childs
For more information on the Achievers and Scholars Initiative, or on the conference, visit the Wilbur N. Daniel African American Cultural Center's website, www.apsu.edu/aacc/, or contact the center at aacc@apsu.edu.