Written by Master Sgt. Tanya Polk
U.S. Forces Afghanistan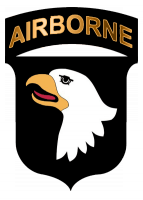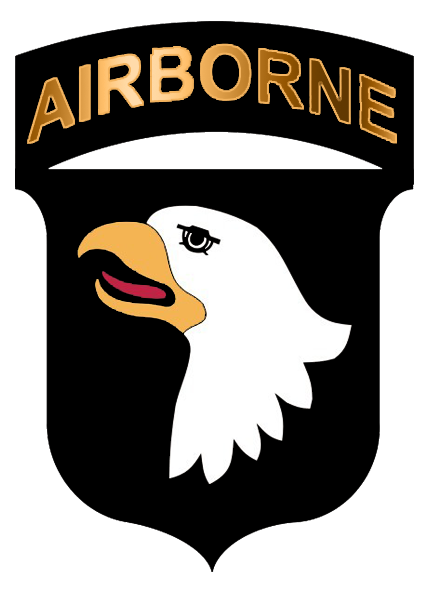 Bagram Airfield, Afghanistan – The 101st Airborne Division (Air Assault) colors unfurled at Bagram Airfield, April 15th, during a ceremony that marked the beginning the unit's fourth deployment to Afghanistan in the last decade.
Maj. Gen. Andrew Poppas, 101st Airborne Division commander, and Command Sgt. Maj. Todd Sims, 101st Airborne Division senior enlisted leader, uncased the division headquarters' colors during a transfer of authority ceremony, officially assuming their new mission from the 3rd Infantry Division.
"The 101st Airborne Division is ready for this new 'Rendezvous with Destiny,'" said Poppas during the ceremony. "Since the day I took command, our future was written, and we knew we were returning to Afghanistan and have trained specifically for this mission."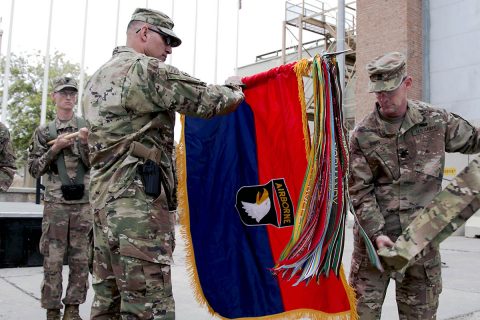 Unlike the 101st Airborne Division's past deployments to the country, which were focused in the eastern region, the division will oversee NATO's train, advise and assist mission and U.S. counterterrorism operations nationwide.
"It is encouraging to see how much has changed, how much has progressed since we took command of Regional Command East on the 101st day of 2008," said Poppas reflecting on the division's time served in Afghanistan. "Not only are the Afghan National Defense and Security Forces fully responsible for Afghanistan's security nationwide, but routinely conducting independent and combined arms operations. We have gone from an active combat role or partnered operations to merely training, advising and assisting these capable Afghan combat formations – a monumental and hard-fought achievement."
Poppas, who replaces Maj. Gen. Leopoldo Quintas, 3rd Inf. Div. commander, will serve as both the Resolute Support deputy chief of staff for operations and U.S. Forces-Afghanistan deputy commanding general for operations.
As the strategic environment changed in Afghanistan, Quintas and the 3rd Inf. Div. transitioned from the U.S. Forces-Afghanistan National Support Element to the Deputy Chief of Staff for Operations role, here, March 9th. In this new role, the Deputy Chief of Staff for Operations helps synchronize all operations in Afghanistan for both support functions and combat-enabling functions, and orchestrates and integrates the train, advise and assist mission with the Afghan National Defense Security Forces at the tactical level.
Gen. John Nicholson, Resolute Support and U.S. Forces Afghanistan commander, presided over the transfer of authority ceremony, and said that the 3rd Inf. Div. implemented and executed this new operational role superbly during their deployment.
"Thanks to the efforts by [the 3rd Inf. Div.] team, we were able to transition the U.S. from a posture of leaving Afghanistan to a strategy focused on winning; winning being defined as getting the enemy to reconciliation," said Nicholson. "The end result is that this headquarters, now with multiple repetitions under its belt, is able to hand off this new function and this new structure to the 101st.
"I couldn't think of two better outfits to have here in Afghanistan at the same time," said Nicholson about the Dog Faced Soldiers and the Screaming Eagles. "I feel really fortunate that we've been blessed with these two fine divisions to serve here."
With their division colors now cased, the 3rd Inf. Div. headquarters returns to Fort Stewart, Georgia, after completing a nine-month deployment.
Poppas also praised the 3rd Inf. Div.'s accomplishments and added that he and the 101st Airborne Division are committed to building upon their successes.
"Soldiers of this division are as bright and innovative as they are lethal," said Poppas. "They have built the 75-year legacy of heroism we enjoy today. We are honored to apply it once again, in our new role to train, advise and assist our Afghan partners. Our new team will continue to work with Afghan National Defense and Security Forces as they continue to seize the initiative and drive our common enemies to reconciliation, or capitulation."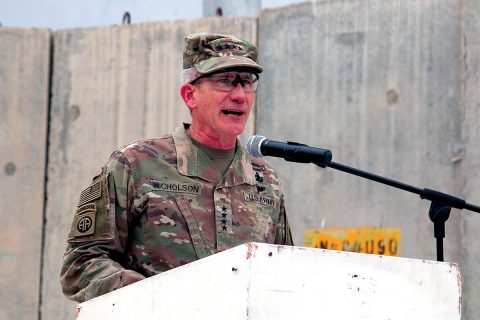 Nicholson said that he was impressed with the training and groundwork the 101st Airborne Division conducted prior to departing Fort Campbell, Kentucky, for their Afghanistan mission, to include the successful completion of three warfighter exercises.
"You have the perfect command to do it with the level of preparation," Nicholson said to Poppas. "We could not have a better unit to fill these big shoes."
Poppas expressed his supreme confidence in his staff's ability to carry out their new mission and enable the Afghan National Defense Security Forces' continued progress.
"The hard-won gains in Afghanistan, by the Afghans and NATO, remain fragile, but are worth defending," said Poppas. "I look forward to working alongside each to bring peace and stability to this nation.