APSU Sports Information

Oxford, AL – Austin Peay State University's Morgan Rackel and Bailey Shorter took home two of the Ohio Valley Conference's top honors for softball to lead APSU's record six All-Conference selections, as announced at the OVC Championship Awards Banquet, Tuesday night.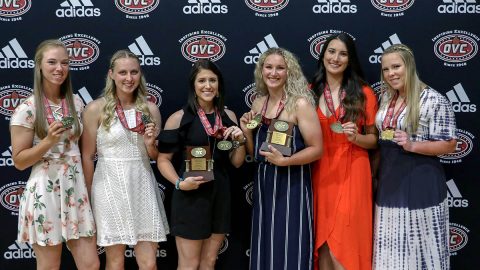 Rackel, a junior left-hander pitcher from Calgary, Alberta, Canada, was selected OVC Pitcher of the Year after finishing the regular season with an OVC-leading 19 wins and a 1.47 ERA to go along with 185 strikeouts.
Shorter, a freshman outfielder from Evansville, IN, was named the conference's Freshman of the Year after posting a .336 batting average this spring, including eight doubles, five home runs, 23 runs scored and 25 RBI.
Shorter is the third Governor to take home Freshman of the Year honors, which include her current teammate Danielle Liermann who was the league's Freshman of the Year in 2016 along with Lori McCoy back in the 2003 season.
Along with the Pitcher of the Year honor, Rackel was also selected as an All-OVC First-Team pitcher selection, with Danielle Liermann joining her as an All-OVC First-Team infield pick, after posting a team-best .353 batting average, 15 home runs and 49 RBIs.
It is Liermann's second time being selected as All-OVC First-Team, with the Simi Valley, CA, native also taking home the honor in 2016.
This also marks the first time since the 1995 season that the Govs have had more than one player make the All-OVC First-Team in the same season.
Two Govs were also selected as All-OVC Second-Team picks, with Shorter and junior outfielder Kacy Acree — from Riverside, CA — getting the nod, with Acree batting .335 this spring, with a team-high 30 runs and 13 doubles to go with two triples, seven home runs and 33 RBIs.
It is Acree's second All-OVC selection of her career, having also been tabbed as an All-OVC Newcomer Team pick back in 2016.
It is the first time since the 2001 season that the Govs have more than one selection to the All-OVC Second-Team in the same season.
Rounding out the Govs All-Conference honors were a record four players being selected to the All-OVC Newcomers Team, with Rackel and Shorter being joined by junior outfielder Natalie Schilling, from Clarksville, TN and junior pitcher Kelly Mardones, from Sanger, TX.
Schilling leads the OVC in stolen bases (37) while batting .307 on the season and scoring a team-best 42 runs, with Mardones posting a sparking 13-4 record this spring with a 2.25 ERA.
The old record for most All-OVC selections in one season was four back in 1994, when the Govs placed four players on the All-OVC First-Team.