Written by Maria Yager
Blanchfield Army Community Hospital Public Affairs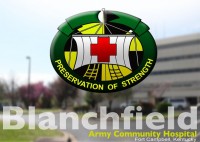 Fort Campbell, KY – In the Army, training simulators are used on a regular basis to keep Soldiers ready. In aviation a flight simulator can replicate the most treacherous of flying conditions allowing the crew to gain experience and confidence to respond. An egress trainer prepares Soldiers to safely escape a Mine Resistant Ambush Protected vehicle rollover.
And, at Blanchfield Army Community Hospital, a state-of-the-art obstetrics and pediatrics simulator is preparing Soldiers and their civilian counterparts on the Labor, Delivery and Recovery Unit to save the lives of women and unborn children faced with life- threatening labor and delivery complications.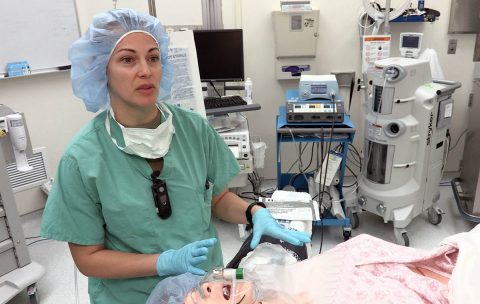 The simulator, which was supplied by the Defense Health Agency, is designed to enhance the training that doctors and nurses already have and keep their skill levels current on complicated obstetrical emergencies they may not see on a regular basis.
The birthing simulator comes complete with a life-like full-body robotic mannequin mother and infant.
They are built with accurate anatomy and functionality and come complete with simulated medications and training aids for scenarios like uncontrolled bleeding, ruptured uterus, umbilical cord prolapse and post-partum hysterectomy. These are serious conditions that can arise during labor, delivery and recovery requiring quick, accurate action by the healthcare team.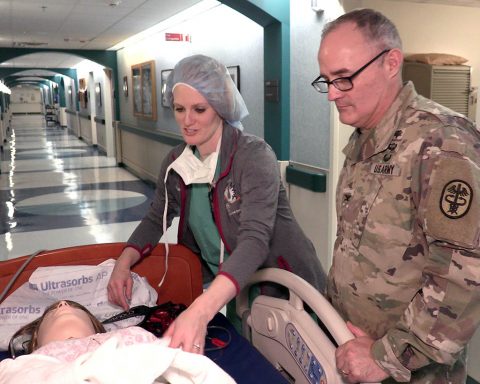 "The importance of it is to stay up on your skills. You want to train like you would do in real life. We are required to do monthly training which keeps all the staff fresh on their skills. You don't [see patients suffer] post-partum hemorrhaging every day but when it happens you want to be able to be quick and ready and know exactly what you want to do so you can take care of the patient," said Brianna Glover- Motley, a clinical staff nurse on Blanchfield's Labor, Delivery and Recovery Unit.
In addition to the anatomical similarities to a living patient, the full-body simulators contain technology that controls simulated breathing, respirations, chest rise and fall, cardiac and airway features, making the experience extremely realistic.
"So with her being so realistic and her being able to talk to us and her vital signs reflecting what she's got going on, seeing the "blood" and her fundus being as boggy as it was, it was a realistic adrenaline rush to get things going and put you in that same mindset that whenever you're taking care of a patient and that really does happen it gives you that same experience to practice through those different scenarios," said Capt. Jessica Sexton, a clinical staff nurse on Blanchfield's Labor, Delivery and Recovery Unit.
Blanchfield's medical staff help deliver between 150 and 190 newborn babies a month, always striving for the safest outcome possible for both mother and baby. Because each labor is unique it is important for the medical team to keep their skills current for any type delivery.
"This training provides scenarios to nurses, doctors and techs on what they are not used to seeing on an everyday basis. Everyone here is pretty good about what they do, but we want to be the best at what we do. Part of that is using these simulations," said Dr. Johnny Mayes, an obstetrics and gynecology physician at Blanchfield. "They give us an opportunity to practice life threatening scenarios in real time and it gives us feedback as we're practicing these scenarios to let us know if we're doing a good job or whether we're doing a bad job."
This new training simulator will be used regularly to keep the medical staff ready mentally and physically to help them achieve the best patient outcome for mothers and babies born at Blanchfield.
"I would like everyone to embrace the training. Treat it as real life as much as possible so that way when it does happen in real life, we're going to be that more efficient at our jobs," said Glover-Motley.