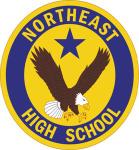 Clarksville, TN – The Northeast High School Class of 2018 graduated 308 seniors at a commencement ceremony inside APSU's Dunn Center on Saturday, May 26th.
Students wearing blue and gold entered in a traditional processional as Pomp and Circumstance played. Thousands of friends and family members filled the first two levels of the auditorium.
Members of JROTC marched to the stage for the presentation of colors, then Christina Webb sang the national anthem.
Garrett Randall Nickel took the podium to greet and welcome everyone to Saturday's ceremony. His remarks touched on awards, scholarships, appreciation and tribute. He was followed by the 2018 Northeast High School Senior Choir, as they performed their arrangement of Today My Life Begins by Bruno Mars.
Navarone Cruize Dupont brought humor to the stage as he delivered his salutatorian address. Valedictorian, Jeal Rakesh Patel was a bit more serious in her speech.
Principal Tavis Massey had the honor of delivering a salute to the senior class, with words of praise for their achievements thus far, and encouragement as they embark on the next level of their education, lives, and careers.
On the stage, behind Principal Massey, were Assistant Principals, Dr. Mandy Frost, Dr. Brad Hutson, and Dr. Carolyn Kennedy. They were joined by Clarksville Montgomery County School Director of Schools Dr. Millard House II, Chief Academic Officer Dr. Sean Impeartrice, Director of High Schools Dr. Jean Luna, and Director of Instruction and Curriculum, 9 – 12 Dr. Dayna Paine.
Upon completion of his speech, Principal Massey presented the NEHS Class of 2018 to Dr. House II. Dr House II graciously accepted the 300-plus students, and so began the presentation of diplomas.
The students rose from their seats and walked across the stage to cheers from the crowd. They received their diplomas, shook hands with principals, counselors and CMC School Board members, then had their first official pictures taken as graduates, before retaking their seats.
After the Select Senior Choir sang the school's Alma Mater, Principal's Award Winner Michael Nicholas Bouder Jr. delivered the Class of 2018 Farewell Address.
Photo Gallery