Clarksville-Montgomery County Crime Stoppers
Clarksville, TN – The Clarksville-Montgomery County Crime Stoppers program announced in February 2018 that it was creating an enhanced TIPS program titled "Cold Case & Heinous Crime Initiative".
Crime Stopper Chairman Josh Beal stated this new program was initiated by Vice-Chairman Bill Summers. Chairman Beal said, "Crime Stoppers Board members are heavily involved and excited that this enhanced program will bring positive results."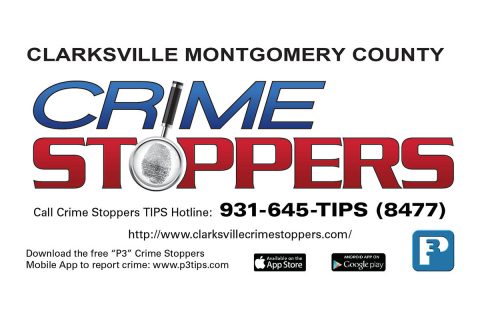 Beal stated, "The ultimate goal is to aid law enforcement and bring closure to the affected families by gathering information (TIPS) that will lead to the arrest of those responsible for murder in the cold case crimes and other heinous crimes that may affect our community".
Crime Stoppers has been emphasizing "Cold Case" efforts for several years, offering $1000 for information to solve these murders. With the enhanced reward of $5,000, we hope citizens will be able to provide additional information. This new program would not be possible without the participation of local community businesses. Crime Stoppers has been contacting local businesses asking for pledges of financial support that will be used to fund this program.
Crime Stoppers is extremely proud to announce that F&M Bank, Morgan Contractors Inc. and Lamar Advertising are the initial businesses to answer the call to help support this new program in our community. Crime Stoppers wants to publicly thank these companies for supporting this new initiative to help our community and law enforcement.
Crime Stoppers asks that any other business that would be willing to help contact us at:
Cold Case & Heinous Crime Initiative – Case #1
As of June 15th, 2018, Crime Stoppers will officially award $5,000 for information that will lead to the arrest of the person or persons responsible for the murder of Darius Walton. He was murdered on June 12th, 2016, at 155 Jack Miller Boulevard, Clarksville, TN.
Anyone with information contact, TIPSLINE 931.645.8477, or submit a tip anonymously at P3tips.com/591. Information may also be found at www.clarksvillecrimestoppers.com
The $5000 reward for information on this crime will remain in effect until August 15th, 2018.