Clarksville's Riverfest Festival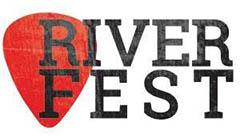 Clarksville, TN – Sister Hazel will be the featured headliner for Riverfest 2018, the City of Clarksville's arts and entertainment festival now in its 31st year.
Sister Hazel, a mainstay on the Billboard country and adult alternative charts for more than two decades, will perform at 9:15pm Saturday, September 8th on the Miller Lite Stage at McGregor Park. The concert is free and open to the public.
"Riverfest has a been a late-summer favorite for our community for a long, long time, and with a great headlining act like Sister Hazel, the 2018 edition promises to be better than ever," Clarksville Mayor Kim McMillan said. "I look forward to seeing everyone on the Riverfront in September."
From Gainesville, FL, Sister Hazel is comprised of five gifted, seasoned musicians whose well-spring of natural talent has been called "one of the Top 100 Most Influential Independent Performers of the last 15 years" by Performing Songwriter Magazine. Their song "All for You" topped the adult alternative charts during the summer of 1997 and the success propelled their album to platinum status.
Sister Hazel's first showing on the country music charts was "Lighter In The Dark," which hit No. 4 on Billboard's Top Country Albums chart and No. 6 on Billboard's Independent Albums chart. The band landed on Billboard's Top Country Albums Chart again in 2016 with "Unplugged From Daryl's House Club" at No. 75. Their most recent release, "Water," a seven-track EP is Volume I of a collectible compilation series titled "Elements." Water debuted at No. 4 on Billboard's Country Albums chart and No. 2 on Billboard's Independent Albums chart.
Sister Hazel has appeared on the Grand Ole Opry and shared the stage with country music superstars at The ?CMA Festival and the Tortuga Music Festival, among others.
The band has built a strong fan-centered reputation, and hosts annual events like "Hazelnut Hang," which focuses on fan involvement. Sister Hazel also was a pioneer in themed cruise experiences, co-founding "The Rock Boat," a cruise featuring nonstop opportunities for fan/artist interaction.
In addition to events and touring, the band also gives back with "Lyrics For Life." Founded by singer Ken Block and the band, the charity unites musicians and celebrities for concerts and auctions to benefit cancer research and patient-care charities.
This year's Riverfest, presented by the City of Clarksville and Miller Lite, will host three stages of entertainment. Music will range from country, R&B, local dance groups, to Christian, and more.
For the full Festival schedule check out www.clarksvilleriverfest.com. To receive the latest news and updates on entertainers, be sure to sign up for the festival newsletter.
Admission to the three-day festival is free, thanks to partners Miller Lite, Google, US Bank, Waterdogs Scuba and Safety, Clarksville Living Magazine, Lamar Advertising, Mary's Music, Bi-County Waste Management, and the Downtown Artist Co-Op.
About the Riverfest Festival
Riverfest is Clarksville's longest running community festival, and brings more than 30,000 people to the banks of the Cumberland River in an arts and recreation celebration. This year, the Riverfest will be September 6th-8th, 2018. Music, art, family events, and more will fill Liberty Park on September 6th, and McGregor Park on September 7th-8th.
Admission and entertainment at the festival are free and open to the public. More announcements about Riverfest events and entertainment will be made soon. To stay up to date on Riverfest, visit the festival website, www.clarksvilleriverfest.com and follow "Clarksville Riverfest" on Facebook. The festival is brought to you by the City of Clarksville Parks and Recreation Department and Miller Lite.
For information call 931.645.7476 or visit www.cityofclarksville.com