APSU Sports Information

Kansas City, MO – The National Association of Basketball Coaches (NABC) today announced the 2017-18 NABC Honors Court, recognizing those men's collegiate basketball student-athletes who excelled in academics during the past season, with rising Austin Peay senior guard Zach Glotta among the honorees.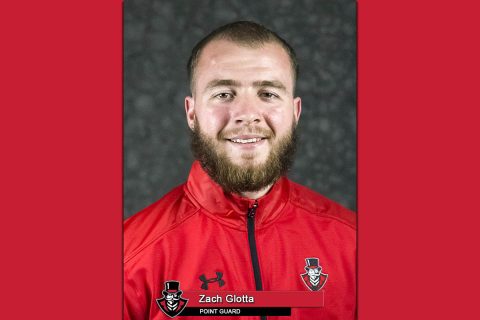 The NABC Honors Court recognizes the talents and gifts these men possess off the court and the hard work they exhibit in the classroom.
Glotta, a native of O'Fallon, Missouri, is one of 219 athletes representing 108 Division I universities on this year's NABC Honors Court thanks to his 3.454 cumulative GPA.
"That's a really big honor," Glotta said. "I try to be a well-rounded student-athlete and give my best in everything I do, so this is a major accomplishment."
To be named to the Honors Court, a student-athlete must meet the following academic standards: academically, a junior or senior with a cumulative GPA of 3.2 or higher at the conclusion of the 2017-18 academic year after matriculating at their current institution (at the NCAA Division I, II or III or NAIA Division I or II levels) for at least one season.
Sections
Sports
Topics
APSU, APSU Athletics, APSU Basketball, APSU Men's Basketball, APSU Sports, Austin Peay State University, Governors, Govs, GPA, Kansas City MO, National Association of Basketball Coaches, O'Fallon MO, Ohio Valley Conference, OVC, Zach Glotta