Austin Peay State University (APSU)

Clarksville, TN – The Austin Peay State University College of STEM had a cookout last week so its student clubs could show off to prospective members. The academic rush, modeled after the Greek rush week, allows new students to enjoy free food and drinks, meet faculty and student leaders and discover more than 15 STEM clubs.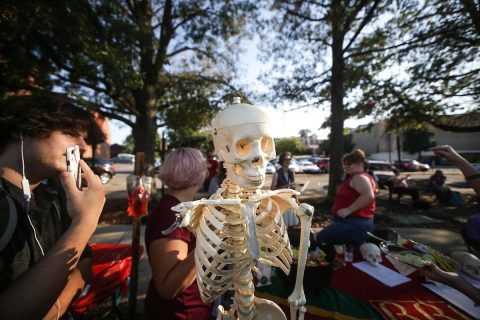 Makayla Dixon of the Pre-professional Health Society said of her club: "We try to be involved on campus, being here recruiting new students, showing freshman that they do have this resource."
And Sam Melber of Beta Beta Beta said: "When people come to our table, a lot of them are just curious, we have a lot of skulls and stuff out. We're trying to reach out to people in biology majors and those who aren't in biology. They can see what we're doing."
The cookout featured science demos throughout the lawn outside the Austin Peay State University Art + Design Building, including dry ice bottle rockets, which popped off throughout the evening; elephant toothpaste (look it up); dry ice Hawaiian Punch; racing drones; and skulls, X-rays and skeletons galore.
These Were The Clubs At The Rush
Photo Gallery