Austin Peay State University Sports Information

Louisville, KY – Maisie Lay posted her best five-kilometer time of the season to lead Austin Peay State University (APSU) women's cross country team at the Greater Louisville Classic, Saturday, at Tom Sawyer State Park.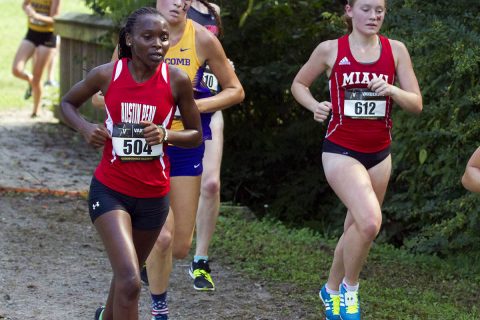 Lay led the way for Austin Peay for a second consecutive race, finishing 44th with a season-best time of 19:15.00.
Senior Caroline Kiplagat was next to cross the line for the Govs and placed 66th with the time of 19:32.10.
The Greater Louisville Classic brought 287 collegiate runners in the Middle (Blue) 5k race. The Governors put up 502 points and placed 19th out of 31 teams in the largest meet they will face until the postseason.
Freshman Molly Howard missed the 20-minute barrier by less than five seconds as she recorded 20:04.70 (130th). Mikaela Smith finished less than eight seconds from Howard and posted her personal best 20:11.50 (140th).
Sophomore Alura Endres also posted a personal best with a 20:29.70 (166th). Keelah Shell placed 172nd as she timed 20:30.60. Freshman Madison Morstad crossed the finish line less than two seconds from Shell as Morstad timed 20:34.30 (174th). Larin Harr wasn't far from the duo of Shell and Morstad as Harr recorded 20:39.20 and placed 181st.
Sarah Martin was the next runner to cross the line for the Govs and placed 188th with the time 20:45.10. Sophomore Jada Hale just missed the 21 minute barrier by less than two seconds as she timed 21:01.40 and was followed by Sophia Wilson (21:09.30, 213th).
"I thought Maisie, Caroline, and Molly got out aggressively, which with such a big field is imperative," said Governors head coach Doug Molnar. "But our back half was a little tentative. I would have liked to see if they could have gotten out a little harder."
The Governors will have a short break but before returning to action October 13th at the Evansville Invitational in Evansville, Kentucky.