APSU Sports Information

Clarksville, TN – Kelsey Gross threw a one-hit shutout Thursday afternoon at Joe & Cathi Maynard Stadium-Cheryl Holt Field to lift the Red Team to a 3-0 victory over the Black Team in the rubber game of the Austin Peay State University (APSU) Annual World Series.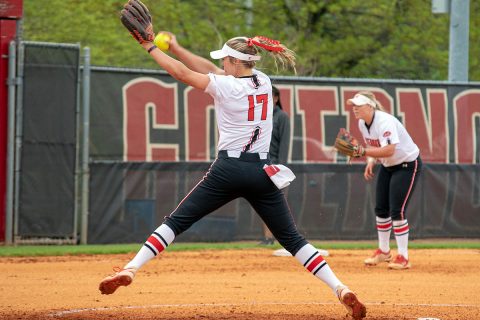 Gross would take a no-hitter into the bottom of the fifth inning, only allowing two base runners on back-to-back walks to Kacy Acree and Danielle Liermann in the bottom of the first inning, before Brooke Pfefferle broke it up with a one-out single to left-center field.
Overall, Gross struck out three and walked two in the contest.
All three of the Red Team's runs came in the top of the first inning on a luck bounce home run by Carly Mattson.
With two runners on, and one out, Mattson hit a long fly ball into left field that looked to have been tracked down by left fielder Katie Keen, but as the ball hit Keen's glove the glove hit the top of the fence causing the ball to pop out and over the fence for the homer.
Natalie Schilling led the Red Team with three hits, including a double, while Lexi Osowski, Victoria Eccleston and Gross also picking up hits in the contest.
The World Series wraps up fall play for the Governors, under first-year head coach Kassie Stanfill, who really liked the way the team responded to her and the new coaching staff.
"Once we got our staff on board the girls opened up and became sponges, taking in all the knowledge that would get," she said. "They learned what kind of pace of practice and competition we're going to provide and what we're looking for."
Although the Govs will be active in the weight room and with individual workouts the rest of the fall, the next on-the-field competition for Austin Peay will come in February 2019 when they open their regular-season schedule at the Alabama-Birmingham Tournament.
"Even though we did a lot of good things this fall, we still have a lot that we're going to be working hard on in getting ready for the spring," Stanfill said. "From that opening tournament all the way into conference play we have a very competitive schedule facing us and we will be ready come that second weekend of February."