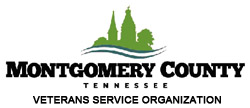 Clarksville, TN – Clarksville-Montgomery County's annual Veterans Day Parade began with an opening ceremony on the steps of the court house featuring special guest speaker Dr. David A. Wesner, followed by dozens of entries performing for thousands of spectators on Clarksville's downtown streets.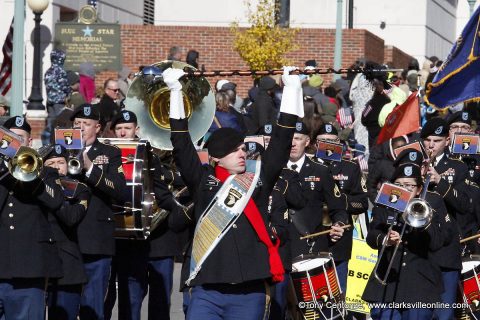 Stacey Hopwood, Interim Director of the Montgomery County Service Organization, welcomed everyone with opening remarks. She was followed by the posting of colors by the 101st Airborne Division Honor Guard, and the singing of the National Anthem by Stella McKnight.
Minister Cynthia Pitts gave the invocation and the benediction. Montgomery County Mayor Jim Durrett gave a very emotional speech, honoring our veterans, then assisted in the laying of the wreath.
This year's theme was Veterans Serving After Service. Dr. Wesner, a pastor and chaplain for the Montgomery County Veterans Treatment Court, spoke on a very personal level about his time in Vietnam, and a period of time after he returned home, during which he felt disconnected, and unsure of his own path.
His journey has included working with the homeless and less fortunate for decades, serving as Adult Services Director at a men's homeless shelter in New York City, and running a full time Chritian Theater there as well. He has been an Adjunct Professor at Austin Peay State University since 2004.
Colder than normal weather meant the opening ceremony crowd was smaller than in previous years. But, the sidewalks were filled to overflowing by the time the parade came through, shortly after 10:00am.
Dr. Wesner closed his speech with a message to his fellow soldiers. "I found a verse in the bible, 30 + years ago, that reads this way, 'I will live and not die, to proclaim the works of the lord.' To my military brothers and sisters, I say, welcome home, and thank you for your service. And, I make you this promise, to the best of my ability, to the last breath I take, I've got your six."
Dr. Wesner then took his place as Grand Marshal of this year's parade. He was followed by marching bands, drill teams, boy scouts, girl scouts, and local ROTC groups that were impressive in size.
A wide variety of vehicles excited the crowd as well. Firetrucks and emergency vehicles, the Corvette Club, the Miata Club, a string of military vehicles, local motorcycle clubs, and more brought smiles to the faces in the crowd. And patriotism was once again on full display in Clarksville, one of America's most patriotic cities.
Photo Gallery