APSU Sports Information

Clarksville, TN – Good Evening Stacheville,
First off, I would like to thank Coach Will Healy for his leadership, passion and dedication to Austin Peay University (APSU) Athletics, and specifically our football program for the past three seasons. Coach Healy was instrumental in elevating our program to a championship level.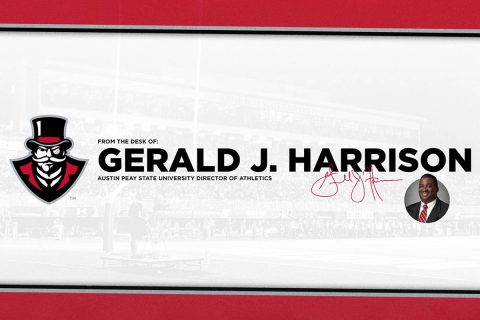 We could not be more appreciative of Coach Healy, Emily and Eli for not only for establishing our program among the nation's finest, but also for representing our university and being great citizens of Stacheville. Certainly, we wish them the best of luck at Charlotte.

As we turn the page, I am preparing to move expeditiously to find a new leader for our football program. I'm sure there is a feeling of anxiousness across Governor Nation, but please know we are receiving interest from numerous outstanding coaches — this job is much better than it was the time of our last search.

Football teams are built in the offseason whether it is through tough workouts or by adding new student-athletes to the current roster. This is why it is imperative we move swiftly to hire the new leader of our program.

Our new head coach must demonstrate the following characteristics to lead our young men:
Our new coach will have an unyielding commitment to provide a great student-athlete experience
Our new coach will understand the "Total Gov" concept which includes a belief that we must develop our student-athletes academically, athletically, socially and mentally.
Our new coach will consistently demonstrate a relentless energy and passion for life and the game of football
Our new coach will understand the concept of integrity above all
Our new coach will be an active and productive member of Stacheville.
Our new coach will understand what it means to "See Red" and that winning with class is an expectation
In conclusion, while this period of time may seem to be filled with uncertainty, please trust that we will draw on our previous experiences and relationships in college athletics to bring a successful coach to Austin Peay Athletics.
Gerald J. Harrison
APSU Director of Athletics
Sections
Sports
Topics
APSU, APSU Athletics, APSU Director of Athletics, APSU Football, APSU Men's Football, APSU Sports, Austin Peay State University, Clarksville TN, Gerald Harrison, Governors, Govs, Ohio Valley Conference, OVC, Will Healy