Clarksville, TN – The Clarksville Parks and Recreation Department hosted its annual Chocolate Affair at the Wilma Rudolph Event Center on Saturday, February 2nd where 600 local fans of the cacao bean indulged in the ongoing chocolate love-affair that mankind began thousands of years ago.
Kara Zahn of Clarksville Parks and Recreation was once again in charge of the popular event.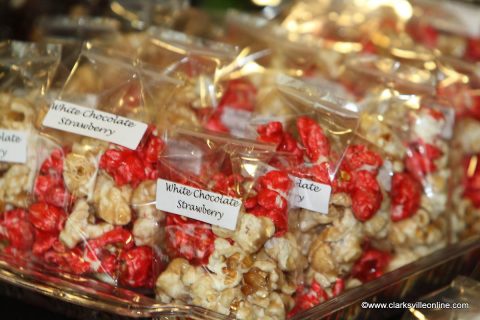 Parks and Rec's Rob Rayburn shared his thoughts on its continued success, and the reaction he hears from fans of the event.
"This is our 7th Annual Chocolate Affair," Rayburn said. "This year's evening session sold out within two weeks."
"I think the afternoon session was sold out within three to four weeks after that. This is a ticketed event, and we can only accommodate 300 people at each session, so we get requests from people all the time to make this event bigger."
The way it works, chocolate enthusiasts go online in the fall to buy their $15.00 tickets. When the event rolls around in early February, they come out to see the ingenious and creative ways that local vendors have come up with to dazzle their taste buds. Some of the confections are also quite visually appealing.
This year, guests were presented with treats from Chealsey's Cookie Jar, APSU/Fort Campbell's Culinary Arts Teams, Poppin' Creations – Gourmet Popcorn, Seasons Market, Wrap & Snacks LLC, Memaw's Kitchen, B's Cheesecakes, Thistle Sweets, Sweet tooth Designer Cakes, The Little Baker, and more.
Each guest is limited to one sample from each vendor, but the items range from Mexican savory treats to chicken wings and BBQ, from ice cream and cookies to chocolate covered bananas.
All are made with chocolate, some subtly infused, some dripping with the decadent flavor that many of us love so much.
"We have a live jazz band performing for everyone's enjoyment this afternoon," Rayburn said. "And our 13 vendors are a good mix of great local businesses, and national brands. We have booths here from O'Charley's, Sam's Club, Publix, and Culver's, and we really appreciate everyone's participation.
"Everyone loves this event, and they ask us to grow it, but logistically, that would be difficult. We have space limitations, and this event is a real challenge for our vendors. There is a lot of cost and effort involved in it for them. They have to agree to provide at least 600 samples. So, I think that for now we have achieved a sort of happy medium.
More information can be found on the Clarksville Parks and Recreation website www.cityofclarksville.com
On Black Friday, tickets will go on sale for Chocolate Affair 2020.
Photo Gallery