Austin Peay (21-9 | 13-4 OVC) at Murray State (24-4 | 15-2 OVC)
Saturday, March 2nd, 2019 | 7:00pm CT
Murray, KY | CGSB Center

Clarksville, TN – Save the best for last, right? That's what the schedule-makers did when they saved the Ohio Valley Conference's most storied rivalry for the regular season finale, when Austin Peay State University (APSU) men's basketball meets archrival Murray State Saturday at the CFSB Center.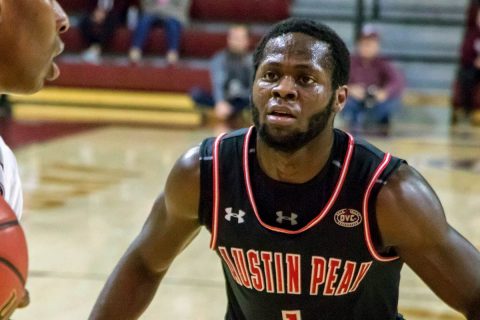 The recipe is simple for the Govs on Saturday: with a win and a Jacksonville State loss, the Govs would take over as the No. 3 seed.
Anything else leaves the Govs in fourth.
Murray State needs a win to ensure a top-two finish and the double-bye; the Racers are still in play for the No. 1 overall seed and regular-season title.
Although the Govs lost the regular-season finale against the Racers last season, Austin Peay has enjoyed good luck against Murray State on the regular season's final day through the years. Since 1970, the Govs are 9-4 in regular-season finales against the Racers.
About the Murray State Racers
Three teams in the Ohio Valley Conference own double-digit positive scoring margins; two will meet Saturday when the Govs and Racers do battle. With much of Murray State's damage done by likely lottery pick Ja Morant, the Govs will have a fight on their hands limiting what Murray State's point guard does in what is likely his home finale.
The game may well be decided by who controls the perimeter; Austin Peay leads the league in three-point shooting (38.3 percent), while Murray State is nearly 40 percentage points better than any other team in the league at defending the three, limiting opponents to 28.5 percent from deep, a mark that ranks fourth nationally.
In the last meeting, Murray State won in part because it was able to turn five Austin Peay turnovers into 11 points. The Govs have remained particularly adroit in ball control, but must keep the Racers from capitalizing, especially because Murray State is committing just 11.2 turnovers in OVC play; the Govs and Racers rank first and second in turnovers per game during OVC play.
APSU Govs Last Time Out Against Murray State
Despite committing a season-low five turnovers, the Govs were unable to overcome Murray State in the February 14th, 2019 edition of this rivalry, falling before an ESPN2 audience in a 73-71 slugfest. Terry Taylor finished with 25 points for the Govs, while Jabari McGhee had 10 points and 10 boards off the bench.
Keep An Eye On
A win would snap Austin Peay's four-game losing streak against the Racers.
Three Governors–Chris Porter-Bunton, Zach Glotta and Jarrett Givens–rank among the top-15 in the OVC in three-point field goal percentage, tied for most in the league. Only Tevin Brown (14th, 38.5 percent) represents Murray State on the list.
A victory would be Austin Peay's sixth straight win on March 1st.
Taylor is shooting 54.8 percent (97-of-177) from the floor and 79.0 percent (45-of-57) from the free-throw line over the last 10 games.
Senior Chris Porter-Bunton needs 19 points to join Austin Peay's 1,000-point club.
Austin Peay has been its most successful self this season when Glotta and Givens are popping from deep. In wins, that duo is hitting 43.1 percent (96-of-223) from three, a number that drops to 31.2 percent (24-of-77) in losses.
A win would be Austin Peay's ninth road win in 2018-19, most since 11 road victories during the 1976-77 season.
Dating back to February 7th, Austin Peay has committed fewer than 10 turnovers in seven straight games. Forget about the last time that happened since electronic record-keeping began in 1999-00 (spoiler: it has not happened during that stretch), in 17 of 19 seasons from 1999-00 forward, there were not seven such games in the entire season.
From February 4th, 2010-December 30th, 2013 there were five total games with fewer than 10 turnovers for the Govs, across four seasons.