Austin Peay State University Sports Information
Terre Haute, IN – Starting pitcher Jacques Pucheu struck out nine batters over seven scoreless innings but the Austin Peay State University (APSU) baseball team could not hold on to a late lead and dropped a 3-2 decision in 10 innings to Indiana State, Saturday, at Bob Warn Field.
Much like Friday's contest, Pucheu and his counterpart Collin Libertore were locked in a pitcher's duel through six scoreless frames. Neither team saw much in the way of offense with each only getting a runner on third with two outs as their lone threats through six frames.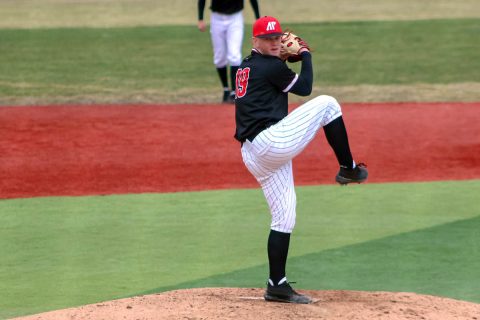 Austin Peay (3-6) broke through in the seventh when Indiana State went to its bullpen. The Govs welcomed reliever Jake Ridgway with four straight hits to begin the frame.
After center fielder Garrett Spain opened the inning with a single, designated hitter Andrew Flaherty's drove him in with an infield single. Second baseman Garrett Kueber added another infield single to load the bases with no outs.
The Governors would only score one more run in the frame. Pinch hitter Gino Avros perfectly executed a suicide squeeze with catcher David Martinez scampering home for the 2-0 lead with two out in the frame. Liberatore would walk the bases loaded again but got a key strikeout to end the threat.
Indiana State (9-1) would threaten to score in its half of the seventh but Pucheu rallied to end the threat. He helped his own cause by catching a runner out at third base on a sacrifice bunt attempt. He then got a flyout before striking out a batter to end the frame.
The Sycamores would not be denied one inning later, taking advantage of the Governors bullpen. Designated hitter Hunter Lewis and pinch hitter Romero Harris each had run-scoring hits to tie the game. The Sycamores would leave the bases loaded as Brett Newberg stuck out a batter to end the inning.
Indiana State would leave the bases loaded again in the ninth but ended the game in the 10th. Left fielder Brandy Nowaski earned a leadoff walk and, after a sacrifice bunt, center fielder CJ Huntley drove in the winning run with a single to left.
Pucheu was left with no decision after a seven-inning outing that saw him limit the Sycamores to two hits and three walks while striking out nine of the 26 batters he faced. Reliever Sebastian Martinez (0-1) was tagged for the loss.
Tyler Ward (1-0) picked up the win for Indiana State with two innings of scoreless relief. Liberatore's tossed six innings of scoreless work, striking out five, but was left no decision.
David Martinez extended his hit streak to seven games with a 2-for-3 outing that paced the Austin Peay offense. Flaherty added a 2-for-4 outing.
Catcher Max Wright led Indiana State with a 2-for-4 effort at the plate with six other Sycamores recording a hit each.
Game 3 between Austin Peay and Indiana State, scheduled for Sunday, has been postponed due to inclement weather forecast for the Terre Haute area. The teams will attempt to reschedule the contest at a later date.