APSU Sports Information

Kennesaw, GA – Austin Peay State University (APSU) women's tennis team continued its early season dominance by blanking Kennesaw State, 4-0, Saturday, at the Betty Siegel Courts.
The Governors (8-0) stayed unbeaten and welcomed back reigning Ohio Valley Conference Freshman of the Year in Fabienne Schmidt. Schmidt, who had not played this year due to injury, returned to the lineup at No. 3 doubles to team with Danielle Morris.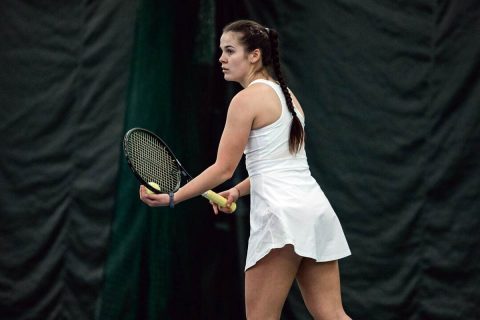 Schmidt showed no signs of rustiness, as her and Morris easily won 6-2 to get things rolling. Tatiana Lopez and Honoka Nakanishi clinched the doubles point with a 6-2 win of their own at No. 2 doubles, with the duo now on a five-match win streak.
In singles, the top of the lineup once again dominated the proceedings. Lopez only dropped one game over two sets en route to her eighth straight win at No. 3 singles to start her first spring as a Gov, putting APSU in front 2-0. The Owls (1-9) responded with winning the first set at No. 4 and No. 5 singles, but Lidia Yanes Garcia gave the Govs a 3-0 lead with a 6-2, 6-1 victory at the No. 1 spot.
Claudia Yanes Garcia took a close first set, 7-5, and it looked like the match might fall on her shoulders, but Helena Kuppig and Morris both won the second sets of their matches to tie them up, lifting some of the pressure off Yanes Garcia. She responded with a convincing 6-1 win in the second set to claim a 4-0 win for the Govs.
Austin Peay, off to its best known start in program history, stays on the road to take on Stetson, 10:00am, Monday, March 4th.
Box Score
Results: Austin Peay 4, Kennesaw State 0
Doubles
1. Juliana Castellanos/Kendall Nash (KSU) vs. Lidia Yanes Garcia/Claudia Yanes Garcia (APSU) 4-4, unfinished
2. Tatiana Lopez/Honoka Nakanishi (APSU) def. Aspen Jarrett/Elle Baker (KSU) 6-2
3. Fabienne Schmidt/Danielle Morris (APSU) def. Brenna Reilly/Jessica Cantrell (KSU) 6-2
Singles
1. Lidia Yanes Garcia (APSU) def. Juliana Castellanos (KSU) 6-2, 6-1
2. Claudia Yanes Garcia (APSU) def. Lara Mehlsam (KSU) 7-5, 6-1
3. Tatiana Lopez (APSU) def. Elle Baker (KSU) 6-1, 6-0
4. Kendall Nash (KSU) vs. Helena Kuppig (APSU) 6-4, 4-6, 3-1, unfinished
5. Jessica Cantrell (KSU) vs. Danielle Morris (APSU) 6-3, 4-6, 1-2, unfinished
6. Aspen Jarrett (KSU) vs. Ana Albertson (APSU) 7-5, 1-0, unfinished
Order of finish: Doubles (3,2); Singles (3,1,2)