APSU Sports Information

Clarksville, TN – Austin Peay State University (APSU) women's tennis team continued its march towards perfection, by blanking Tennessee State, 7-0, Saturday, at the Governors Tennis Courts.
The Governors (13-0, 1-0 OVC) showed no signs of slowing down in the opening match of Ohio Valley Conference play, earning their ninth shutout win of the season over the Tigers (5-6, 0-1 OVC).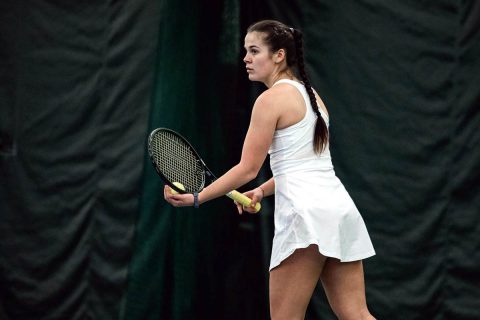 It was business as usual for the now-cemented No. 1 doubles team of Honoka Nakanishi and Tatiana Lopez, as they won their ninth straight match.
Their win clinched the doubles point for the Govs, as Danielle Morris and Fabienne Schmidt walloped their opponents at No. 3 singles, 6-1 in the first match of the day.
The Yanes Garcia sisters of Claudia and Lidia also won at No. 2 singles, as the Govs swept the doubles portion.
Schmidt was the standout performer in singles, not dropping a game en route to a 6-0, 6-0 victory. Lidia Yanes Garcia earned a straight-set win at No. 2 singles to bring the Govs to the cusp of victory, before Lopez took care of business at no. 3 singles, winning 6-2, 6-4.
The match was already won for the Govs, but Claudia Yanes Garcia (No. 1 singles), Helena Kuppig (No. 5), and Danielle Morris (No. 6) all won in straight sets as well to bring the Govs their eighth win of the season without dropping a set.
"For the first OVC match, I was extremely pleased with them and their effort," said Governors assistant coach Maria Sorbello. "The other team started off strong in singles play, but the consistency and depth of our girls was the difference."
The Govs hit the road as they continue OVC play, traveling to Jacksonville State for a 1:00pm, Friday. March 29th contest.
Box Score
Austin Peay 7, Tennessee State 0
Doubles
1. Tatiana Lopez/Honoka Nakanishi (APSU) def. KAKKAR, Aarushi/CAGE, Morgan (TSUW) 6-3
2. Lidia Yanes Garcia/Claudia Yanes Garcia (APSU) def. NATRAJ, Pragati/SOLE, Claudia (TSUW) 6-3
3. Danielle Morris/Fabienne Schmidt (APSU) def. VISHWANATH, A/BECKHAM, Mackenzie (TSUW) 6-1
Singles
1. Claudia Yanes Garcia (APSU) def. KAKKAR, Aarushi (TSUW) 6-4, 6-2
2. Lidia Yanes Garcia (APSU) def. NATRAJ, Pragati (TSUW) 6-3, 6-2
3. Tatiana Lopez (APSU) def. VISHWANATH, A (TSUW) 6-2, 6-4
4. Fabienne Schmidt (APSU) def. BECKHAM, Mackenzie (TSUW) 6-0, 6-0
5. Helena Kuppig (APSU) def. SOLE, Claudia (TSUW) 7-5, 6-4
6. Danielle Morris (APSU) def. JONES, Ashia (TSUW) 6-3, 6-2
Order of finish: Doubles (3,1,2); Singles (4,2,3,1,5,6)