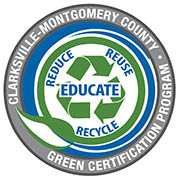 Montgomery County, TN – On Tuesday, June 11th, 2019, the Clarksville Montgomery County Green Certification Program held a green ribbon cutting to welcome Thurman Campbell Group (TCG) as the newest Green Certified organization.
The event was attended by Montgomery County Mayor Jim Durrett, Program Manager Carlye Sommers and Program Board Members Daryl Pater, Haley Randell, Gene Fish and Doug Jones as well as by TCG staff.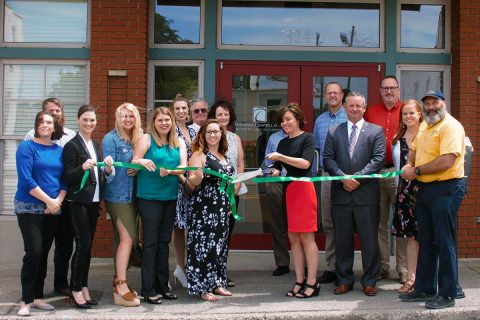 While going through the Program, TCG has expanded its paper recycling and converted forms and customer documents to electronic versions.
The staff continues to evaluate printed materials and hopes to one day be entirely paperless.
The reduction in printing has saved money and employee time and reduced the company's impact on the environment.
Additionally, the office is in the process of converting older bulbs to LED and the staff works together to ensure that lights are turned off in unused rooms throughout the day and at night before leaving. TCG also installed a new water filtration system that allowed them to eliminate plastic water bottles in the office and Styrofoam single use cups have been replaced with reusable cups.
Mayor Durrett asked the TCG attendees if they have taken recycling practices home and they said they have as well as implementing other practices they have learned from the Program such as energy efficiency. TCG's two additional offices in Hopkinsville and Princeton, Kentucky are also incorporating the sustainable practices taking place at the Clarksville office. Mayor Durrett thanked TCG and its employees for their commitment to Montgomery County and the environment.
TCG is a Certified Public Account (CPA) firm located at 324 Franklin Street in downtown Clarksville that provides financial, tax and accounting services. In addition to the Clarksville location, TCG also has two additional offices in Tennessee and two in Kentucky.
About Clarksville-Montgomery County Green Certification
The Clarksville-Montgomery County Green Certification Program promotes environmental stewardship within Montgomery County. The free Program is open to any organization with a physical location within the County and focuses on expanding recycling and improving resource efficiency. If your organization is interested in learning more about the Program, contact Carlye Sommers at cmsommers@mcgtn.net or call 931.245.1867.
You can also find information about the Program and the over 120 Green Certified businesses at www.mcgtn.org/green