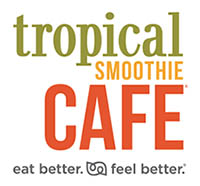 Clarksville, TN – Paul and Armi Rhodes of Live Better Clarksville are proud to announce the Grand Opening of Tropical Smoothie Cafe at 1825 Madison Street, this Friday, June 28th, 2019 from 7:00am to 9:00pm.
The first 200 people in line will draw numbers to receive various 'mystery prizes'. 50 winners will win free smoothies for a year, and one lucky grand prize winner will receive a custom-made "Troptastic" Corn Hole game set.
Tropical Smoothie Cafe will be offering $2.99 smoothies all day Friday, (June 28th) and $1.99 smoothies with food purchase on Saturday, (June 29th).
Tropical Smoothie Cafe describes itself as perfect for people seeking vibrant flavors and better-for-you foods. "We use the finest natural ingredients: fresh, ripe fruits for our smoothies; and premium meats, cheeses, and breads for our sandwiches, wraps and flatbreads."
Everything at the cafe is prepared fresh from scratch. "We blend whole chunks of real fruit to make the smoothies, and toast the wraps and flatbreads individually, per order. The Cafe also touts its uniquely flavorful and delicious recipes, as well as a menu that offers variety and value.
"Upon completing my career in the United States Army, I was concerned about still having the ability to mentor, and maintain the rush of servant leadership," Paul Rhodes said. "Tropical Smoothie Cafe's mission and values closely align with our family lifestyle.
"Having the opportunity to bring this amazingly delicious food and smoothie option to our community, coupled with the unparalleled hospitality offered at our cafe, leaves me confident that this will be a great place to create memories for our community. The ability to help Clarksville 'Live Better' is truly an honor."
Hours of operation will be Monday – Friday 7:00am – 9:00pm, Saturday 8:00am – 9:00pm, and Sunday 9:00am – 8:00pm.
For more information, call 931.919.2220.