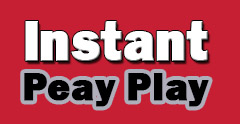 Clarksville, TN – With the beginning of the college football preseason just around the corner, two former Austin Peay State University (APSU) football players are already working hard in National Football League training camps looking to earn a spot on their team's respective rosters.
Wide receiver DJ Montgomery is working out with the Cleveland Browns in Berea, OH, while defensive lineman Austin Maloata is in Richmond, VA, with the Washington Redskins at the Bon Secour Redskins Training Camp Center.
Montgomery (6-1, 201) signing with the Browns as an undrafted free agent on May 3rd, while Maloata (6-2, 283) was picked up by the Redskins as a college free agent on May 13th.
As a wide receiver, Montgomery – who is wearing No. 83 for the Browns — will be trying to earn a spot on a roster that is very deep in talent, with the likes of Odell Beckham, Jarvis Landry, Antonio Callaway among others in it receiving core.
A positive for Montgomery is that he put up some good numbers at his pro day, posting a 4.41 40 (yard dash), and a vertical leap of 37.5 inches and a time of 6.69 in the 3-cone drill, indicating good hip flexibility and balance.
Montgomery has also impressed with his ability as a deep threat in the passing game, with the ability to create early distance versus defenders.
But with the depth on the Browns roster at the receiver position, Montgomery may need to – along with his ability to run and catch the ball – find a way to also help the team as a part of a special team member as a returner or gunner on punt or kickoff coverages.
For Maloata, who is wearing No. 92 — much like Montgomery with the Browns faces an uphill battle to make the Redskins roster, with Washington having one of the deepest and youngest group of defensive linemen in the NFL.
At his pro day, Maloata posted a 5.22 40-yard dash, a 4.63 in the 20-yard shuttle, a 8-foot-9-inch broad jump and did 27 reps in the 225 pound bench press.
Maloata faces an uphill battle with the fact that at his current 283 pounds is smallish for an NFL defensive lineman, so he will need to put on some weight as well as work on his athleticism if he were to be moved from nose tackle to the outside of the defensive line.
Coincidently, the Redskins and Browns open their respective preseason schedule playing each other on August 8th.