Clarksville, TN – The Austin Peay State University (APSU) Department of Art + Design at Austin Peay State University is excited to announce its 2019-20 season of exhibitions and visiting speakers.
Generously supported by the Center of Excellence for the Creative Arts (CECA), the Department of Art + Design can bring nationally and internationally recognized artists and thinkers to Clarksville with programming that is free and open to the public.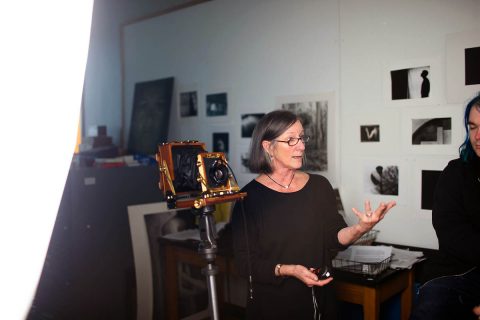 The recently built APSU Art + Design building houses both The New Gallery and Heydel Hall. The New Gallery will host four exhibitions showcasing contemporary art from regional and national artists, as well as the annual juried student exhibition.
Heydel Hall is an acoustically tuned lecture hall that will host the CECA Visiting Artist Speaker Series featuring select national and international artists and thinkers.
"I say this every year, but we are super-excited about this year's slate of exhibitions and speakers," said Michael Dickins, gallery director and Visiting Artist program chair. "We're beginning our third year in the new Art + Design building, and there is no sign of the department slowing down.
"We are continuing to bring world-class artists directly to Austin Peay and the residents of Clarksville," Dickens added.
"With invaluable support from CECA, this excitement will continue as The New Gallery will host an exciting exhibition lineup of contemporary artists that will challenge, awe and inspire our students to push themselves in their individual practices; and our Visiting Artist Speaker Series that will allow our students and community to directly interact with the influential artists of our time," Dickins stated.
"Our programming continues to be the envy of our peer institutions within our state and those within our surrounding region," Dickins continued. "Last year, we had institutions from within our state, as well as from South Carolina, Georgia, Alabama, Arkansas and Kentucky, bring their students to our events. This is a huge testament to our programming and the support from CECA."
World-Renowned do it Highlights Exhibition Season
The New Gallery exhibition season includes contemporary artists visiting from Tennessee, Georgia, Alabama and Maryland as well as Hans Ulrich Obrist's do it, which has been exhibited in venues around the world and features artworks from globally recognized contemporary artists.
Here's the schedule:
humanature: new works by Susan Bryant. August 26th-September 20th, 2019. Artist Lecture: 6:00pm September 12th, Heydel Hall, reception following. Reception: Noon-1:00pm September 13th with a gallery talk by the artist at 12:30pm.

Susan Bryant is an American photographer whose work includes gelatin silver prints, hand-colored silver prints, digital photographs and, most recently, the 19th-century processes of daguerreotypes, tintypes and wet plate collodion negatives and positives (ambrotypes). humanature is a collection of recent work of haunting landscapes, poignant still-lifes and tender family photos rich with Bryant's signature style of process-oriented photography. She recently retired as professor of art at Austin Peay State University, where she taught photography for 30 years.

do it. September 30th-December 6th, 2019. Kick-off reception/party: 5:00pm-7:00pm October 3rd. Select corresponding events will take place throughout the exhibition.

do it at Austin Peay will feature projects throughout the extended 10-week exhibition from the following artists: Louise Bourgeois, Jay Chung, Amy E. Cohen and Fransisco J. Varela, Elmgreen&Dragset, Tracy Emin, Paul-Armand Gette, Simryn Gill, Felix Gonzalez-Torres, Joseph Grigely, Joan Jonas, Alison Knowles, Jeong-A Koo, Sol LeWitt, David Lynch, Yoko Ono, Amalie Pica, Adrian Piper, Marjetica Potr?, David Reed, Hassan Sharif, Tris Vonna-Michell and Erwin Wurm. The New Gallery exhibition layout will consistently change as new projects are introduced, realized and retired, offering different experiences with each visit.

Jiha Moon: Kudzu. January 20th-February 14th, 2020. Reception: Noon-1:00pm February 6th with a gallery talk by the artist at 12:30pm. Artist Lecture: 6:00pm February 6th, Heydel Hall.

Jiha Moon is a contemporary artist uses her Korean and American background to focus on painting, printmaking and sculptural ceramic objects. Moon's paintings combine visual icons and symbols from a variety of sources, cutting across culture lines to the accumulation of art-historical, corporate and advertising symbols in contemporary society. Eastern and Western imagery and painting techniques, emoji, internet icons and folk art are present in her work. She works primarily in acrylic paint on hanji, a Korean paper, and incorporates fabrics, embroidery and print collage in her paintings.

Spectacle. February 24th-March 27th, 2020. Artists Panel Discussion: 6:00pm March 18th, Heydel Hall. Reception: Noon-1:00pm March 19th with a gallery talk by the artists at 12:30pm.

Featuring the work of Chris Boyd Taylor, Vesna Pavlovi? and Brandon Donahue, Spectacle is an exhibition that employs an artistic approach to the sport of basketball. Each of the artists uses basketball, and its subsequent culture, as an influence in creating works that recontextualize the artifacts of the sport and emphasizes the performative nature of the spectator.

52nd Annual Student Juried Exhibition. April 6th-29th, 2020. Reception/Awards Night: 5:00pm-7:00pm April 29th with Awards Ceremony at 5:30pm.
Antwaun Sargent Kicks Off Visiting Artists Series
The 2019-20 CECA Visiting Artists Speaker Series features artists from Iran, Texas, California and New York. The lectures will be hosted in Heydel Hall in the Art + Design building unless otherwise noted.
Here's the schedule:
Antwaun Sargent, 6:00pm October 24th: Sargent is an art critic and a writer who has contributed to The New York Times, The New Yorker, Vice and more, as well as essays to multiple museum publications. His first book, "The New Black Vanguard: Photography Between Art and Fashion," will be published by Aperture this fall.
Nina Stössinger, 6:00pm October 28th: Stössinger is a senior typeface designer at Frere-Jones Type in Brooklyn. Originally from Switzerland, she studied multimedia design in Halle/Germany and type design in Zurich and The Hague. Stössinger's work has been awarded numerous prizes and exhibited internationally. She also will conduct a workshop with APSU typography students.
Raheleh Filsoofi, 6:00pm November 6th: Filsoofi is a multidisciplinary artist based in Texas, Florida and Iran. Her work synthesizes sociopolitical statements as a point of departure and further challenges these fundamental arguments by incorporating ancient and contemporary media such as ceramics, poetry, ambient sound and video, aiming for a holistic sensory experience. Her interdisciplinary practices act as an interplay between the literal and figurative contexts of border, immigration and intercultural communications.
Deborah Roberts, 6:00pm November 12th: Roberts is a mixed-media artist whose work challenges the notion of ideal beauty. Her work has been exhibited internationally across the United States and Europe and is in the collections of Whitney Museum of American Art, New York, New York; Brooklyn Museum, New York, New York; The Studio Museum in Harlem, New York, New York; LACMA, Los Angeles, California; Block Museum of Art, Evanston, Illinois; Blanton Museum of Art, Austin, Texas; Spelman College Museum of Fine Art, Atlanta, Georgia; Montclair Art Museum, Montclair, New Jersey; and The Frances Young Tang Teaching Museum and Art Gallery, Saratoga Springs, New York.
Carla Repice, 6:00pm January 30th in the Barbara Beach Student Gallery: Repice is a first-generation Italian American born to southern Italian immigrants after World War II. Her work investigates systems of oppression and memory and probes the effects of racism and dehumanization on the human psyche. Repice will exhibit her series "The White Problem" in the Barbara Beach Student Gallery from Jan. 20-31. She will conduct a conversational discussion within the exhibition for her artist talk.
CECA Tennessee Artist Fellow, 6:00pm March 6th at the Frist Art Museum: The CECA Tennessee Artist Fellowship was created to celebrate contemporary art and to support the continued creative work of exceptional Tennessee artists. The 2019-20 CECA Tennessee Artist Fellow will be selected and announced in October 2019.
Cassils, 6:00pm April 9th: Cassils is a visual artist working in live performance, film, sound, sculpture and photography. Cassils has achieved international recognition for a rigorous engagement with the body as a form of social sculpture. Drawing on conceptualism, feminism, body art and gay male aesthetics, Cassils forges a series of powerfully trained bodies for different performative purposes. It is with sweat, blood and sinew that Cassils constructs a visual critique around ideologies and histories.
To allow the community greater access to the exhibitions, The New Gallery will open during Clarksville's First Thursday Art Crawls throughout the year. Normal hours for The New Gallery are 9:00am-4:00p.m. Monday-Friday. The gallery is closed on weekends and holidays and follows the University's academic calendar.
For more information about the exhibitions or lectures, contact Dickins at .
To stay informed of upcoming events or scheduling changes, follow the APSU Department of Art + Design on Facebook, Instagram and Twitter.