Clarksville, TN – Austin Peay State University (APSU) is ready to seize on this momentum by hosting its second annual industry summit on October 3rd in the campus' Morgan University Center Ballroom.
During the community event, former U.S. Ambassador Bill Hagerty will deliver a keynote address about his diplomatic work in Japan, Tennessee's largest international investor.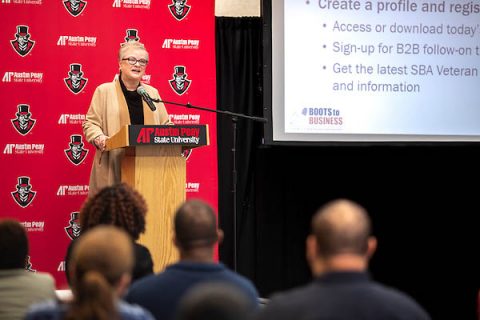 "Indeed, Japanese companies have made over $400 billion worth of investment in the United States, growing at an annual rate of 9% and employing some 850,000 American workers," Hagerty said in a 2017 address to the Japan National Press Club. "Japanese companies are doing well in the United States, generating high returns for their shareholders and generating growth in their industry."
Locally, nearly 200 Japanese companies have invested $19.5 billion in Tennessee, employing more than 50,000 residents. Two years ago, Austin Peay partnered with the Japan Foundation to bring Yoshio Koyama, a retired Japanese businessman, to campus to help forge relationships between Austin Peay and the Japanese businesses currently operating in the area.
Hagerty also spent several years living in Japan in the 1980s and 1990s as a member of the Boston Consulting Group. He previously served as former Gov. Bill Haslam's commissioner of the Tennessee Department of Economic and Community Development, where he worked closely with major Japanese-owned companies such as Bridgestone, Calsonic Kansei and Nissan.
During Austin Peay's "Seizing the Momentum: Bridging Education, International Investment and Workforce Opportunities in One of the Nation's Fastest-growing Communities" summit, the University will also unveil the results of the ground-breaking Industry Climate survey it conducted earlier this year. The results will give the University and local employers a clearer picture of what the region's needs will be in the next few years.
"The questions in the survey are economic driven," Dr. Andrew Luna, executive director of APSU decision support and institutional research, said in April. "The survey will be used to give an overall economic picture of the Clarksville-Montgomery County area. It's dealing with what businesses and industries are planning to do within the next 18 months. What do they need in terms of new employees? What are they finding in their new employees?"
Last October, the University brought together business, industry, education and government leaders for the inaugural summit, following the Economic Development Council's call for "a platform where industry can be the leader in partnering with education and government to tackle workforce issues that are inherent to all." That event identified some gaps in what local employers needed and the programs offered at Austin Peay. University officials began looking at ways to develop new academic programs or rework existing ones to better align with the community's workforce needs.
"As a result of the relationships and initiatives we walked away with, we said we need to do a survey to make sure we align with what businesses say they need," APSU Vice President for External Affairs Ronald Bailey, Lt. Gen USMC (Retired), said.
Attendees at this year's summit also will get a nuanced look at this region's growth during a panel discussion with Ralph Schulz, president of the Nashville Area Chamber of Commerce; Allen Borden, assistant commissioner for the Tennessee Department of Economic and Community Development; and Millard House, director of the Clarksville-Montgomery County School System.
For information or to RSVP by September 24th, visit www.apsu.edu/summit.