Conway, AR – It was a near-perfect day for the Austin Peay State University women's tennis team, who won all but one of the seven matches they played in at the first day of the University of Central Arkansas Fall Classic.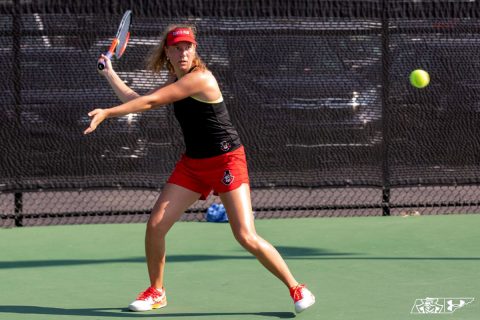 Coming off of a strong showing at the season-opening APSU Fall Invitational, Ross Brown's squad picked right back up where it left off.
The morning started with doubles play, and the pairing of Fabienne Schmidt and Danielle Morris stayed unbeaten in doubles, winning two matches.
After running the table at the home tournament, the pair is once again set up for a shot at the title. The senior-freshman combo of Ana Albertson and Sarah Heckel were once again paired up in doubles play, dropping their first match, 6-4.
The Governors went unbeaten in afternoon singles play. Albertson got things going for the Govs in Flight Five, winning her match handily, only dropping one game along the way. Heckel improved on her opening weekend, which saw her drop her first match and fall to the consolation bracket, by winning her opening match in Flight Four and securing a spot in the quarterfinals.
In Flight One, Morris rolled through her competition without dropping a game to lock up her spot in the quarterfinals. Schmidt saw a little more drama in her match, after winning the first game 6-3, she dropped the second 2-6. But a 10-8 tiebreak win sent the Hillscheid, Germany, native to the Flight One quarterfinals tomorrow.
All four of the Governors who made the trip to Conway, Arkansas, will be back in action in singles quarterfinal matches at day two of the UCA Fall Classic. Doubles will get things underway at 9:00am, and singles play will follow.
APSU Govs Day One Match Results
Flight One Singles
First Round
Fabienne Schmidt (APSU) def. Romana Tarajova (SEMO) 6-3 2-6 (10-8)
Danielle Morris (APSU) def. Shelby King (ASU) 6-0 6-0
Flight Four Singles
First Round
Sarah Heckel (APSU) def. Allison Quamman (ASU) 6-1 6-1
Flight Four Singles
Ana Albertson(APSU) def. Emma Allen (ASU) 6-1 6-0
Flight 1 Doubles
Quarterfinals
Schmidt/Morris (APSU) def. Velkoska/Lai (SEMO) 6-3
Semifinals
Schmidt/Morris (APSU) def. Romer/Sherman (LTU) 6-1
Flight 2 Doubles
First Round
Engback/Vasupongchai (UCA) def. Albertson/Heckel (APSU) 4-6
Consolation
Jover/Oravcova (UCA) def. Albertson/Heckel (APSU) 4-6