Clarksville Chief of Police and 290 Officers now using Body Worn Cameras

Clarksville, TN – The Clarksville Police Department has reached full deployment of its body-worn camera program.
All 291 sworn law enforcement officers, including the Chief of Police, are using the body worn cameras during law enforcement-related interactions with the public. Some administrative staff positions that do not have daily public interaction will not be issued BWCs.
The Clarksville Police Department remained on track with its implementation program since the receipt of a federal grant and matching City funding in 2017.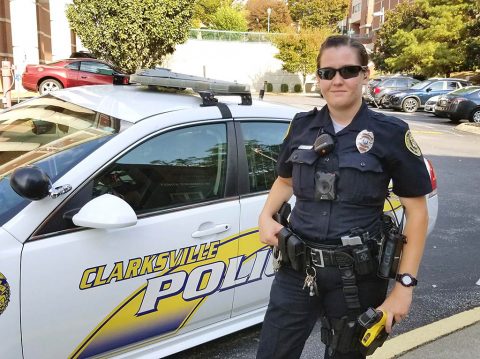 The first BWCs were fielded in October 2018 and full deployment was achieved on Tuesday, September 24th, 2019.
"The implementation of the body-worn camera program was a welcomed challenge," Clarksville Police Chief Al Ansley said. "It required us to develop policies, train officers and share information about the program with the community. I'm proud of the work we've done."
In addition to policy development and training, the department and its vendor, AXON, installed extensive technological infrastructure for the body-worn camera program, which includes secure storage, capture, and management of data on a Cloud-based system.
Policy and procedures have been revised a few times since the initial fielding of the BWCs. Those changes were coordinated with the U.S. Department of Justice as part of the requirements for the grant.
The Clarksville Police Department has additional BWCs on hand which will be used to outfit new officers hired with the department.
"Our Police Department and the City have worked hard for several years to get to this point of full deployment of body-worn cameras, " Clarksville Mayor Joe Pitts said. "This rollout has been smooth and orderly, which is a testament to the leadership of Chief Ansley and the quality of our officers. I'm confident these new tools will help us better serve and protect our residents, and provide even more transparency and accountability."