Nashville, TN – Austin Peay State University (APSU) men's tennis team's Jacob Lorino and Christian Edison picked up a doubles win on the first day of the Intercollegiate Tennis Association Ohio Valley Regional, Thursday, at Vanderbilt's Currey Tennis Center.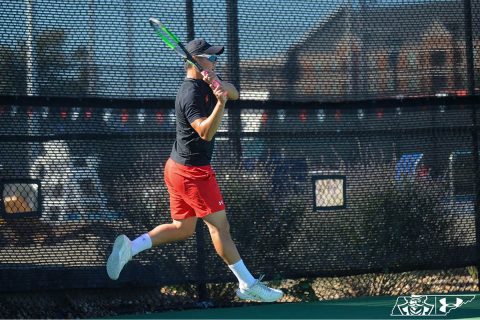 Lorino and Edison won the first match of the day for the Governors, picking up a doubles win over Butler's Michael Karr and Zach Trimpe. In the second round of action, Lorino and Edison dropped a close match to Belmont's Marko Illic and Hendrick Inno, 8-5.
The Governors two upperclassmen have spent the entire fall playing together, and will look to keep things rolling heading into their final tournament of the fall and the spring season.
Playing together for the first time, Anton Damberg and freshman Thiago Nogueira dropped their first round matchup at the Ohio Valley Regional. Damberg, who spent most of the fall paired with freshman Julius Gold, and Nogueira fell in a close match to Xavier's Srdan Pejic and Brett Winters, 8-4.
In singles action the Governors didn't fare as well, dropping all four matches. Three of the four Govs fell to opponents ranked in the top-15 of the draw. Lorino dropped his match to the 12th-ranked Maesen Sisam of Vanderbilt, 6-3 6-2. Damberg, the only Gov to take on an unranked opponent, fell to Lipscomb's Jorge Ortegon, 6-3 6-3. Nogueira was knocked off by Louisville's 15th ranked Ramirez, 6-1 6-0. Finally, Edison was matched up with Purdue's 7th-ranked Mateo Julio, who took the match 6-3 6-3.
The Governors will be back in action tomorrow with singles consolation matches at the ITA Ohio Valley Regional. After this weekend, the Governors will be back in action when they travel to the UTC- Steve Baras Fall Invitational, October 31st to November 3rd, in Chattanooga. For results from the Governors consolation matches, be sure to check Twitter (@AustinPeayMTN) or on Vanderbilt's ITA Ohio Valley Regional Tournament Central page.
Govs Day One Match Results
Singles
(12) Maesen Sisam Vanderbilt def. Jacob Lorino (APSU) 6-3 6-2
Jorge Ortegon (Lipscomb) def. Anton Damberg (APSU) 6-3 6-3
(15) S. Ramirez (Louisville) def. Thiago Nogueira (APSU) 6-1 6-0
(7) Mateo Julio (Purdue) def. Christian Edison (ASPU) 6-3 6-3
Doubles
Christian Edison/Jacob Lorino (APSU) def. Michael Karr/Zach Trimpe (Butler) 8-3
Marko Illic/ Hendrick Inno (Belmont) def. Christian Edison/Jacob Lorino (APSU) 8-5
Srdan Pejic/Brett Winters (Xavier) def. Anton Damberg/Thiago Nogueira (APSU) 8-4
Govs Day Two Matches
Consolation Singles
Jacob Lorino (APSU) vs. Vince Orlando (Ball State)
Thiago Nogueira (APSU) vs. Andrew Michael (Butler)
Anton Damberg (APSU) vs. Joe DeMarco (Dayton)
Christian Edison (APSU) vs. Param Pun (Wright State)