Clarksville, TN – With the spring tennis season set to kick off in less than two weeks, Austin Peay State University head tennis coach Ross Brown has bolstered the women's roster with the addition of Jana Leder, a freshman who will be immediately eligible for the spring season.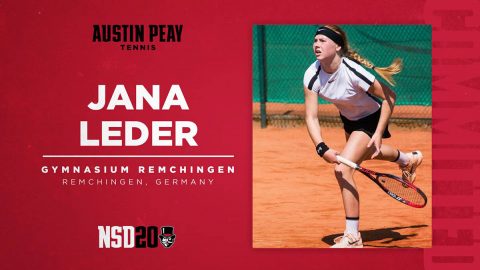 Leder attended Gymnasium Remchingen in her hometown of Remchingen, Germany, which is located in the state of Baden-Württemberg – the same state where fellow APSU Govs freshman Sarah Heckel hails from.
During her prep career, Leder won the South-German Championship and the Badischer Championship. She also advanced to the quarterfinals of the German Championships in both single and doubles play. Finally, Leder helped her team receive a promotion to the German Regionalliga during her time at Gymnasium Remchingen.
"We are very excited to have Jana join our team," said coach Bown, "Jana has a high Germán women's open ranking and is a very accomplished player. She has an all court game and will not only have an immediate impact on our singles lineup, but she will add tremendously to our doubles play. Jana has a great work ethic, a drive to excel and improve, and I believe she will make a major impact for our team."
Leder is the daughter of Kerstin and Volker Leder, and plans to major in business at Austin Peay. During her days at Gymnasium Remchingen, Leder also played soccer. She will join Fabienne Schmidt and Heckel, to give the APSU Governors three German-natives on the women's tennis roster.
Austin Peay State University women's tennis will begin the spring season and the defense of its Ohio Valley Conference title at 1:00pm, January 20th, 2020, when they take on Chattanooga at the Governors Tennis Center in Clarksville.