Nashville, TN – The Tennessee Wildlife Resources Agency (TWRA) announces that the Best of Show drawing from the 2019 Tennessee Annual Junior Duck Stamp Art Contest is now a collectible waterfowl stamp.
Orders are being taken for the collectible stamp that is produced annually and sold for conservation education through the Tennessee Wildlife Resources Agency.
Erica Brock from Lafollette was honored as the 2019 Tennessee Best of Show last spring as announced by the U.S. Fish and Wildlife Service, which hosts the annual contest.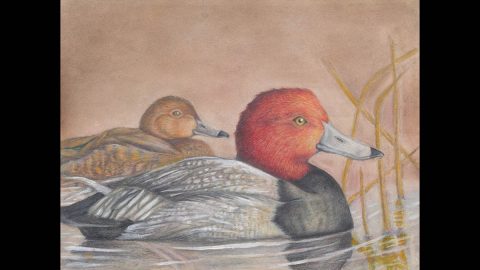 As a student at Campbell County High School, Erica's winning artwork depicted a pair of redheads and was created with mixed media using a combination of colored pencil, acrylic, and pastel. She received the Jeanette Rudy $1,000 scholarship from the Tennessee Wildlife Resources Foundation and other prizes.
Since 1999, a collectible stamp has been created from the annual Tennessee Junior Duck Stamp program contest's Best of Show. The program is an art contest managed by the U.S Fish and Wildlife Service designed to teach the importance of conserving wetlands habitat and waterfowl to students. It pairs science, the arts, and other core subjects to creatively teach greater awareness of our natural resources.
As part of the program, students are invited to participate in an annual art competition. Creating an entry is a valuable experience. It helps students tie together lessons on animal form and function, plant science, observation, wetland habitats, and more. In the visual arts, students practice sketching, drawing, painting, and composition.
The public is invited to purchase the collectible stamp. Each state stamp is numbered and printed in full color, measuring 1 2/8 by 2 inches. In addition to this year's stamp, stamps since 1999 are available.
Funds from the sale of the stamp will be used for habitat improvement. Stamps are $10.00 each and there is a $1.00 processing per order and they may be ordered by completing the Wildlife Stamp order. Find out more information here: https://www.tn.gov/content/tn/twra/wildlife/collectible-stamps.html
Students from across Tennessee participate each year in the contest. The TWRA The entry deadline is each March and winners are presented awards at a ceremony in the spring. (To obtain a copy of the free curriculum or for more information on the Junior Duck Stamp Program, contact the Tennessee National Wildlife Refuge at 731.642.2091.
Winners from all 50 states compete with best-of-show winners each year. The winner of the national winners becomes the artwork used for the Federal Junior Duck Stamp each year.
The public is reminded that the State of Tennessee Waterfowl stamp is voluntary and not required to hunt. However, the Federal Duck stamp is required to hunt waterfowl in Tennessee.