Clarksville, TN – After winning three matches last week, the Austin Peay State University (APSU) men's tennis will look to make history repeat itself with another trio of matches this week, starting with a 2:00pm, Thursday, match against Martin Methodist at the Governors Tennis Center.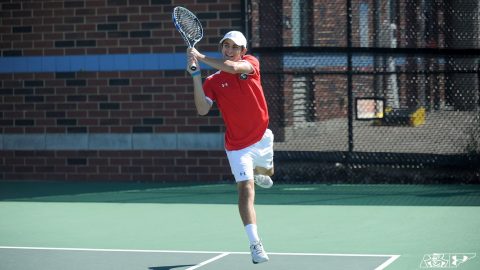 After the Govs take on the Redhawks, they will travel to Indianapolis for a 2:30pm, Saturday, match with IUPUI; before returning to Clarksville for an 11:00am, Sunday match against the Flyers of Dayton.
After a slow start to the season, the Governors have reeled off three-straight wins. In doubles play, the Govs have been led by their No. 2 duo of Anton Damberg and Julius Gold, who have won their last three matches. Damberg and Gold lead the APSU Governors with nine doubles wins together dating back to the fall season.
The Govs No. 1 doubles duo of Jacob Lorino and Christian Edison have posted wins in each of their last two matches. The all-junior combo of Lorino and Edison have won three times this spring and six times dating back to the fall season.
In the third doubles positon, Oliver Andersson has split time playing with Hunter Sanders and Thiago Nogueira. Andersson and Sanders have got the nod in each of the last two matches, picking up wins both times out.
In singles action, Lorino is on a four-match winning streak and leads Austin Peay State University with four singles wins from the No. 5 position this spring. Playing as the No. 1 and No. 2 for the Governors, Edison and Damberg have each posted three singles wins this spring. Edison dropped his last match, but Damberg is on a three-match winning streak.
Andersson is the third Gov with three singles wins this season, as the sophomore from Sweden has picked up all of his wins in the No. 4 position. Gold has been the Governors No. 3 each time out this spring, the German freshman has picked up a pair of wins, but dropped his match last time out.
Sanders has manned the Governors No. 6 singles position for the majority of the spring, with the senior picking up wins in each of his last two matches.
The Opposition
Martin Methodist (1-3)
Last Meeting: The Governors beat Martin Methodist, 7-0, at the Governors Tennis Center on March 15, 2019.
It has been a slow start to the season for the Redhawks, dropping three of their first four matches. Martin Methodist and Austin Peay State University have a common opponent in Carson-Newman. The Redhawks fell to Carson-Newman, 7-0, to open the season, but the Governors beat the Eagles, 4-3, to pick up their season's first win.
IUPUI (2-10)
Last Meeting: IUPUI knocked off Austin Peay State University, 4-3, at the Governors Tennis Center on Feb. 8, 2019.
A challenging early season schedule has led the Jaguars of IUPUI to a 2-10 start to the season. The Jaguars have dropped matches at Northwestern, Kentucky, Wisconsin, and Purdue. Austin Peay and IUPUI do not have any common opponents yet this season, but the Jaguars dropped a match to Dayton, 4-3 – a team that the Govs will play on Sunday.
Dayton (4-6)
Last Meeting: Dayton bested Austin Peay State University, 7-0, at the Five Season Sports Club in Dayton, Ohio, on Feb. 16, 2018.
After a slow start to the season, Dayton has found its stride, winning three of their last four matches. The Flyers opened their season with a match at Louisville, falling to the Cardinals, 7-0; Austin Peay also dropped a match at Louisville, 4-0. On Valentine's Day, Dayton posted a 4-3 win over the IUPUI squad that the Governors will take on Saturday.
Next Up For Austin Peay State University Tennis

After a trio of matches this week, Austin Peay State University will travel to Knoxville for a 4:30pm, March 8th, match against Tennessee. After the Governors square off with the Volunteers, they will kick off Ohio Valley Conference play with a 1:00pm, March 10th, match at Tennessee State in Nashville.