Topic: J. Robert Lindsey

Clarksville, TN – The Roxy regional theaters is currently staging their production of the classic Rodgers and Hammerstein musical South Pacific. This show features an amazing cast without exception, along with the incredible vocal talents of John Boehr and Alicia Kelly.
"South Pacific" is set on an island paradise during World War II and centers on an American nurse Nellie Forbush (Alicia Kelly) stationed on the island who falls in love with a middle-aged French plantation owner Emile de Becque (John Boehr) but struggles to accept his mixed-race children.
«Read the rest of this article»

Clarksville, TN – The Roxy Regional Theatre does it again with their exquisite production of Rodgers and Hammerstein's  musical "South Pacific". Stars John Boehr and Alicia Kelly give soulful vocal performances that brings to life the emotions and anguish of their characters on the Roxy Stage.
Backed by Michael Spaziani, Elena Pascullo and the rest of this powerhouse cast, "South Pacific" creates a chemistry with the audience that takes you back to a time of men and women torn by war, romance, and prejudice.
«Read the rest of this article»

Clarksville, TN – Set sail for "South Pacific" this summer with the Roxy Regional Theatre, Clarksville's oldest live theatre and only professional theatre.
Starring powerhouse vocalists John Boehr and Alicia Kelly as Emile de Becque and Nellie Forbush, the Rodgers & Hammerstein classic will close out the Roxy's 30th Anniversary Season, beginning Friday, July 12th, at 8:00pm.
Recently off runs as Velma in Chicago with Royal Caribbean's Allure of the Seas and as Marty in the national tour of Grease, Kelly is a veteran of the Roxy stage, having previously appeared in A Streetcar Named Desire (Blanche), RENT (Maureen) and CATS (Grizabella), among others.
«Read the rest of this article»

Clarksville, TN – "Second star to the right, and straight on 'til morning …" Let your inner child soar to new heights and fly away to Neverland with the Roxy Regional Theatre!  Enchanting fun for audiences of all ages, the award-winning Peter Pan: A Musical Adventure makes its regional premiere on Friday, April 12th, at 8:00pm.
Based on J.M. Barrie's original play, with permission from Great Ormond Street Hospital for Children, Peter Pan features music and lyrics by George Stiles and Anthony Drewe (award-winning composers of Honk! and Mary Poppins) and book by Willis Hall.
«Read the rest of this article»

Clarksville, TN – This spring, the Roxy Regional Theatre offers a glimpse of war through the eyes of a Union soldier, a Confederate sympathizer and a mute boy. Ambrose Bierce's "Civil War Stories" premieres Friday, March 29th, at 8:00pm, for a limited run.
Celebrated for their intensity, insight and mastery of form, Ambrose Bierce's collection of stories has been described as one of the great antiwar statements in American literature.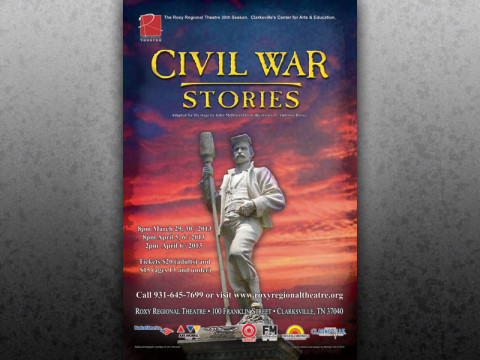 «Read the rest of this article»

Clarksville, TN – Stephen Adly Guirgis' new high-octane, verbal cage match about love, fidelity and misplaced haberdashery, "The Motherf**ker with the Hat", pushes the envelope at the Roxy Regional Theatre's theotherspace for four performances only, beginning Wednesday, March 20th, at 7:00pm.
Finding his theatrical voice as a high school student of Roxy Artistic Director John McDonald, Mr. Guirgis will be coming to Clarksville on Saturday, March 23rd, for the theatre's "Wine & Theatre Night." Following the show, he will participate in a question and answer session with the audience.
«Read the rest of this article»