Clarksville, TN – This spring, the Roxy Regional Theatre offers a glimpse of war through the eyes of a Union soldier, a Confederate sympathizer and a mute boy. Ambrose Bierce's "Civil War Stories" premieres Friday, March 29th, at 8:00pm, for a limited run.
Celebrated for their intensity, insight and mastery of form, Ambrose Bierce's collection of stories has been described as one of the great antiwar statements in American literature.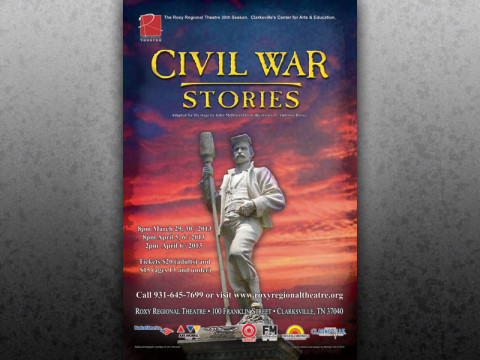 Adapted and directed by John McDonald, selections including "An Occurrence at Owl Creek Bridge," "Chickamauga" and "Killed At Resaca" acquire new life upon the stage through the ensemble acting skills of Leslie Greene, J. Robert Lindsey, Colin Ryan and Michael Spaziani.
Original music for the show was composed by Oklahoma native Colin Ryan, whose debut album, Wide Tree, was released in 2012. A cross-genre musical journey through acoustic rock, grunge and soul, with powerhouse vocals throughout, Wide Tree will be available at performances, as well as through www.CDBaby.com.
This marks the third production in the Roxy's four-part series commemorating the Sesquicentennial of The Civil War, beginning in 2011 with the musical "The Civil War" and continuing with last year's stage adaptation of Stephen Crane's "The Red Badge of Courage".
"Civil War Stories" plays at 8:00pm on March 29th, 30th, April 5th and 6th, with a 2:00pm matinee on Saturday, April 6th. Tickets are $20.00 (adults) and $15.00 (ages 13 and under) and may be reserved online at www.roxyregionaltheatre.org, by phone at 931.645.7699, or at the theatre during regular box office hours
(9:00am to 2:00pm, Monday through Friday, and one hour prior to curtain).
Friday, March 29th, is the Roxy's traditional pay-what-you-can preview, for which all tickets not pre-sold at the regular ticket price will go on sale at 7:30pm for whatever amount patrons are able to pay.