Clarksville, TN – The Roxy regional theaters is currently staging their production of the classic Rodgers and Hammerstein musical South Pacific. This show features an amazing cast without exception, along with the incredible vocal talents of John Boehr and Alicia Kelly.
"South Pacific" is set on an island paradise during World War II and centers on an American nurse Nellie Forbush (Alicia Kelly) stationed on the island who falls in love with a middle-aged French plantation owner Emile de Becque (John Boehr) but struggles to accept his mixed-race children.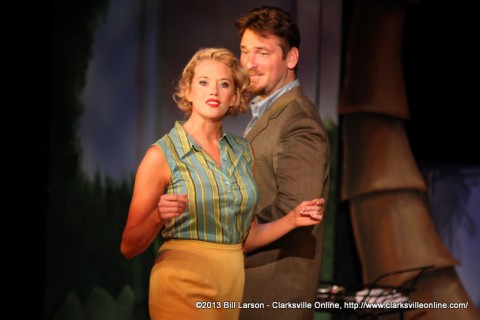 John provides a rich operatic feel to the production as Emile de Becque; and with his background, it's no wonder why. He recently performed as Schaunard in Puccini's La Bohème with the Fort Worth Opera, and as Morales in George Bizet's Carmen at the Dallas Opera. His rich baritone voice provides the dramatic structure to the performance with his love of Kelly's character.
Alicia Kelly's lovely voice provides a rich counterpoint to Boehr's, and she is an amazing actress having played Velma in Chicago with Royal Caribbean's Allure of the Seas, and as Marty in the national tour of Grease, She is a veteran of the Roxy stage, having previously performed as Blanche in A Streetcar Named Desire, Maureen in RENT, and Grizabella in CATS, among others. Kelly is also a member of the Actors' Equity Association.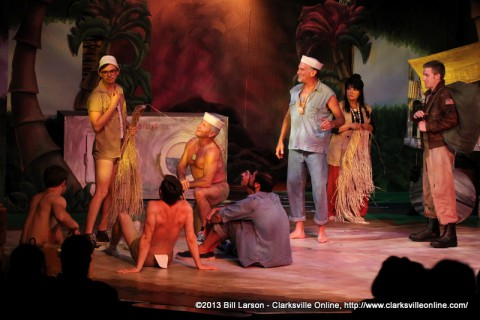 They are backed up by a wonderful supporting cast that in some cases comes close to stealing the show. Especially Greg Frey who plays crafty Luther Billis, a U.S. Navy Seabee who reminded me a lot of the loveable Sgt Bilko with his constant scheming to get over to the tropical paradise of Bali Ha'i. Jama Bowen stood out with her portrayal of Bloody Mary a Native women who would do anything to ensure a good life for her daughter Liat by marrying her to an American Naval officer Lt. Joseph Cable played by Michael Spaziani. Their interactions explore Cable's fears of the social consequences that would ensue should he marry her.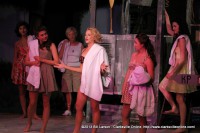 It was great to see local people up on stage performing with the professionals in the cast, in this show Jim Knoll played Staff Sgt. Thomas Hassinger, APSU Student Humberto Figeruroa played Henry, and Mary Nell Wooten played LT. Bessie Noonan.
South pacific features some memorable music including such songs as "Some Enchanted Evening," "I'm Gonna Wash That Man Right Outta My Hair," "This Nearly Was Mine" and "There is Nothin' Like a Dame."
The sets were impressive. The stage changed effortlessly from a south pacific beach, to a wealthy planters plantation home, even the nurses shower. The gigantic moon over the island was a really great touch.
I am always mystified at how the Roxy Regional Theatre can do so much with such a small space. I can't wait to see what they can do when they have the facilities planned in the Roxy Center Regional Center for the Arts.
There are just two performances remaining for you to be able to catch this outstanding show, tonight and tomorrow at 8:00pm. Don't miss out.
Photo Gallery