Topic: Mary Nell Wooten

Clarksville, TN – The haunting moors of England will come to life at the Roxy Regional Theatre in the enchanting musical "The Secret Garden", playing November 13th through November 27th.
Based on the enduring family classic penned over a century ago by Frances Hodgson Burnett, this Tony Award-winning musical, with book and lyrics by Pulitzer Prize-winning playwright Marsha Norman and music by Lucy Simon, soars to new heights under the direction of Tom Thayer.
«Read the rest of this article»

Clarksville, TN – Move over, Tammy, Dolly and Loretta … there's a new trio in town! Classic country gets a musical makeover in Ted Swindley's "Honky Tonk Angels" at the Roxy Regional Theatre, beginning February 13th at 8:00pm.
Audiences who could not get enough of Always…Patsy Cline will find the perfect match in creator Ted Swindley's follow-up, which combines over 30 classic country tunes (including "I'll Fly Away," "Stand by Your Man," "Harper Valley PTA," "9 to 5," "Coal Miner's Daughter," "Ode to Billy Jo," "These Boots Are Made for Walking," "Rocky Top" and "I Will Always Love You") with a hilarious story about three gutsy gals who are determined to better their lives and follow their dreams to Nashville.
«Read the rest of this article»

Clarksville, TN – The Roxy regional theaters is currently staging their production of the classic Rodgers and Hammerstein musical South Pacific. This show features an amazing cast without exception, along with the incredible vocal talents of John Boehr and Alicia Kelly.
"South Pacific" is set on an island paradise during World War II and centers on an American nurse Nellie Forbush (Alicia Kelly) stationed on the island who falls in love with a middle-aged French plantation owner Emile de Becque (John Boehr) but struggles to accept his mixed-race children.
«Read the rest of this article»

Clarksville, TN – The Roxy Regional Theatre does it again with their exquisite production of Rodgers and Hammerstein's  musical "South Pacific". Stars John Boehr and Alicia Kelly give soulful vocal performances that brings to life the emotions and anguish of their characters on the Roxy Stage.
Backed by Michael Spaziani, Elena Pascullo and the rest of this powerhouse cast, "South Pacific" creates a chemistry with the audience that takes you back to a time of men and women torn by war, romance, and prejudice.
«Read the rest of this article»

Clarksville, TN – Set sail for "South Pacific" this summer with the Roxy Regional Theatre, Clarksville's oldest live theatre and only professional theatre.
Starring powerhouse vocalists John Boehr and Alicia Kelly as Emile de Becque and Nellie Forbush, the Rodgers & Hammerstein classic will close out the Roxy's 30th Anniversary Season, beginning Friday, July 12th, at 8:00pm.
Recently off runs as Velma in Chicago with Royal Caribbean's Allure of the Seas and as Marty in the national tour of Grease, Kelly is a veteran of the Roxy stage, having previously appeared in A Streetcar Named Desire (Blanche), RENT (Maureen) and CATS (Grizabella), among others.
«Read the rest of this article»

One of the major misconceptions about the Roxy Regional Theatre, I think, is the fact that everything we do throughout the week takes place inside the 153-seat theatre. So, as Saturday, October 30th quickly approached, we stocked up on coffee, energy bars and hit the floors running.
A typical Saturday at the Roxy is already jam-packed but this particular Saturday was a little more packed than usual. The day began with our Saturday School of the Arts at 10:00am. We are fortunate to have close to 60 young people takes the acting portion of the program with our Artistic Director, John McDonald. They are working on a "workshop in-formance" of Shakespeare's A Midsummer Night's Dream coming up in December.
«Read the rest of this article»
This is the first of a series of articles about the Seventh Annual Writers' Conference held at Austin Peay University on July 14th-15th, 2011.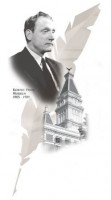 Clarksville, TN – Presented by Clarksville Arts & Heritage Development Council with a grant from Tennessee Arts Commission, the Clarksville Writer's Conference was held in last week in Austin Peay State University's Morgan University Center. The Conference drew people from all over the United States for a wonderful banquet, along with two days of book readings and writing workshops.
Writing is not a job or a hobby or a profession. Writing is a compulsion. People who are writers write because they must. It is usually the way they process the world around them and if they don't write, they feel like they are not living, only existing.
«Read the rest of this article»
Luncheon speaker, John McDonald was introduced by Mary Nell Wooten as being a "visionary and playwright." He was definitely both when together with Tom Thayer, they opened the Roxy Regional Theatre in 1983. The Roxy is Clarksville's oldest professional theater, and home to the Roxy's Professional Company that reaches thousands of school children each year.
Another of McDonald's originations, the Summer Drama Camp, sponsored in conjunction with the Clarksville Department of Parks and Recreation,  and has been awarded the Ovation Award from the Austin Peay State University Center of Excellence for the Creative Arts.
Who is the man behind the drive to bring drama to Middle Tennessee?
«Read the rest of this article»