Clarksville, TN – Move over, Tammy, Dolly and Loretta … there's a new trio in town! Classic country gets a musical makeover in Ted Swindley's "Honky Tonk Angels" at the Roxy Regional Theatre, beginning February 13th at 8:00pm.
Audiences who could not get enough of Always…Patsy Cline will find the perfect match in creator Ted Swindley's follow-up, which combines over 30 classic country tunes (including "I'll Fly Away," "Stand by Your Man," "Harper Valley PTA," "9 to 5," "Coal Miner's Daughter," "Ode to Billy Jo," "These Boots Are Made for Walking," "Rocky Top" and "I Will Always Love You") with a hilarious story about three gutsy gals who are determined to better their lives and follow their dreams to Nashville.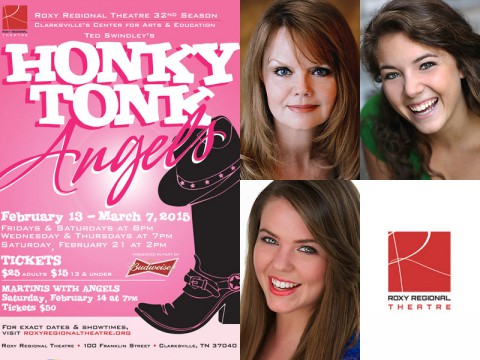 Jama Bowen (recently off a run of Great American Trailer Park Musical with Florida's Broadway Palm Dinner Theatre) stars as Angela, an overworked and under-appreciated Texas housewife with a sense of humor a la Roseanne Barr.
Corinne Bupp plays Darlene, a sweet West Virginia coal-country girl currently living in the Mississippi Delta; and Kristina Wilson is Sue Ellen, a "citified" country girl whose career has transplanted her from Texas to Los Angeles.
Providing toe-tappin' accompaniment in the form of a five-piece band are director Tom Thayer on piano, Scott Emerson on fiddle, Jarrod Jackson on guitar, John Waddle on bass, and Thad Wallus on drums.
On Saturday, February 14th, treat your valentine to an unforgettable evening of cocktails, sumptuous hors d'oeuvres and laughter at "Martinis with the Angels." Martinis will be flowing at 7:00pm, complemented by Smoked Brisket Sliders, Bangkok Lettuce Wraps, Italian Antipasto, Grilled Cheese Crostini w/ Tomato Bacon Salad, and Candied Bacon & Bourbon Brownies, followed by "Honky Tonk Angels" at 8:00pm. Tickets are $50.00 per person.
"Honky Tonk Angels" is made possible in part through the generous support of Budweiser of Clarksville. Additional funding support has been provided by Dr. Ernest & Joan DeWald, John & Cathy Stanton, and Mary Nell Wooten.
"Honky Tonk Angels" runs February 13th through March 7th, playing Wednesdays and Thursdays at 7:00pm and Fridays and Saturdays at 8:00pm, with a 2:00pm matinee on Saturday, February 21st.
Tickets are $25.00 (adults) and $15.00 (ages 13 and under) and may be purchased online at www.roxyregionaltheatre.org , by phone at 931.645.7699, or at the theatre during regular box office hours (9:00am to 2:00pm, Monday through Friday, and one hour prior to curtain).
The performance on Friday, February 13th, is the traditional pay-what-you-can preview; all tickets not pre-sold at the regular ticket price will go on sale at 7:30pm for whatever price patrons wish to pay. Active-duty military, APSU students and CitySaver coupon holders can enjoy two tickets for the price of one to Wednesday and Thursday evening performances.
The Roxy Regional Theatre is located at 100 Franklin Street in Clarksville, TN.