Luncheon speaker, John McDonald was introduced by Mary Nell Wooten as being a "visionary and playwright." He was definitely both when together with Tom Thayer, they opened the Roxy Regional Theatre in 1983. The Roxy is Clarksville's oldest professional theater, and home to the Roxy's Professional Company that reaches thousands of school children each year.
Another of McDonald's originations, the Summer Drama Camp, sponsored in conjunction with the Clarksville Department of Parks and Recreation,  and has been awarded the Ovation Award from the Austin Peay State University Center of Excellence for the Creative Arts.
Who is the man behind the drive to bring drama to Middle Tennessee?
John McDonald does not describe himself in terms of being the founder of the Clarksville Theater Guild nor as the off-Broadway performer of his younger years nor even as his tenure of being the guest instructor at APSU who directs also the musical theater series there.
For his audience at the Saturday luncheon of the Sixth Annual Clarksville Writers' Conference, he talked about his early childhood when "my family was the richest family in the poorest neighborhood." He spoke of moving several times from one Catholic school to another and of consequently failing the third grade after these uprootings.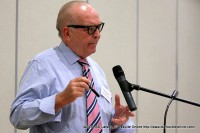 McDonald admitted that this allowed him to "develop an imagination that was different" and that he was "honored by that."
He described consequently as being able to adapt when things on stage required that attribute. "I had a script that presented six actors," he recalled. "They hated me because they had to change off stage quickly and present themselves immediately as new characters. The last Thanksgiving show came up 10 minutes too short so I had to switch a character previously viewed as Old Joe for the cleaning lady." He had the actor change one hat and a set of prosthetic teeth for a different hat without the teeth in order to present an entirely different character in the space of seconds. It worked.
A graduate of the American Academy of Dramatic Arts where he studied under a full scholarship from ABC Broadcasting, John enchanted his luncheon audience with the story of a man's meeting Addie M. Wilson (a real person who lived in Clarksville in the late 1800s) whose blue eyes were so mesmerizing that "he heard nothing she said. She resembled a doll I had heard was sunk in the Cumberland River; I thought it had come alive."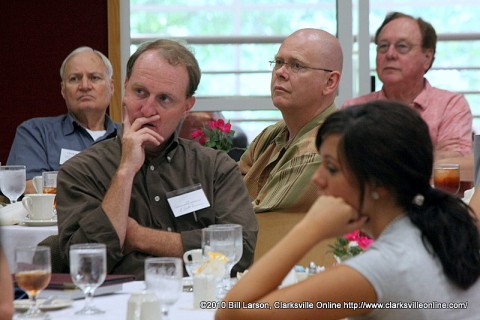 McDonald described an episode in which Addie's mother and cousin Kate made Addie a yellow dress for her personal coming-out party. Unfortunately, when she arrived in the Adolph Hach home, Mrs. Hach was horrified because the material in the dress matched that in the parlor draperies. Addie ran out of the house but her best friend convinced her that the situation was funny. They went to the friend's house and put on Addie another dress that belonged to her friend. Returning to the party, the girls told everyone they had just pulled a joke on the party-goers.
(The tour participants from the Clarksville Writers' Conference had just two days prior to this luncheon visited the house where the Hachs had made their home on Greenwood Avenue. The house is now owned by Lisa MClain and her husband, Marlin Huddleston.)
It was told that Mrs. Hach went back to the store where she had bought the drapery material and demanded to know who had bought the rest of it, but she was not to learn the answer.
Addie's father did not want her to become a missionary in Japan, where Addie insisted she was to go. He even bought a version of Gilbert and Sullivan's "The Mikado" but it did not dissuade her. Of course, the opera was in Italian!
Although Addie tried, she was unable to locate anyone in Clarksville to teach her to speak Japanese before she left to go there as a missionary.
Addie died in Japan on September 15, 1908 (according to records for the cemetery); she is buried in Greenwood Cemetery in Clarksville, ironically in the location where her father had wanted to build her a house, McDonald concluded.
Who is John McDonald? It would seem obvious that he is a man intensely interested in the drama of life.
Photo Gallery