Topic: Probation

Clarksville, TN – The Clarksville Police Department is requesting assistance locating a runaway juvenile. Fabian Lloyd, age 16, B/M, he is 6'3″ tall, weighing approximately 150 lbs.
He was last seen leaving his residence on foot around 1:57am on August 2nd, 2020. He is currently on probation and has an ankle monitor however the battery is dead.
Lloyd is known to hang out in the Lincoln Homes area.

Clarksville, TN – The Special Investigations Section of the Tennessee Department of Revenue conducted the investigation that led to the guilty plea of Amer Ibrahim, 46, to three counts of sales tax evasion and one count of theft over $2,500.
Ibrahim is the owner of ASR Tobacco and Beer located at 231 Tenth Street in Clarksville, Tennessee.
«Read the rest of this article»

Clarksville, TN – A man who is no stranger to Clarksville Police and already on probation has been booked into the Montgomery County Jail again. Devone Maurice Clement was developed as a suspect by Detective Bradley after a November 9th, 2017 break in of a business on Hornberger Lane.
There were multiple vehicles broken into and a 2011 Honda Accord stolen.
«Read the rest of this article»

Yonkers, NY – Thousands of doctors are currently practicing medicine while being on probation for issues ranging from sexual misconduct and drug addiction to unprofessional and dangerous treatment of patients. But it's difficult and time-consuming for consumers to find out if their doctor is one of them, according to Consumer Reports.
A survey by Consumer Reports finds that 82 percent of Americans are in favor of requiring doctors to tell their patients if they are on probation and why. And 66 percent lean toward barring doctors from seeing patients until their probationary period ends.
«Read the rest of this article»

Clarksville, TN – On December 3rd, 2012, around 1:20am, Clarksville Police were called to a Mark Spitz address about a robbery which occurred in the parking lot of a business at the 1600 block of Fort Campbell Boulevard around 1:00am.
An 18 year man told officers he was driven by his friend Marques Townsend to the business' parking lot, where subsequently, a male wearing a bandanna and black jacket held a gun to the 18 year olds head and demanded his money and cell phone.
«Read the rest of this article»
After a shoplifter is caught, cited, and released, he makes a beeline to another store to shoplift and is caught again.

Clarksville, TN – On September 25th, 2012, around 8:15am, Clarksville Police Officers were called to Kroger's on Madison Street about a man who had taken several cases of beer and meat and left the store without paying.
The man, David Felts, was located by officers at the corner of Golf Club Lane and Crossland Avenue. He was pushing a Kroger's shopping cart down the street loaded with the stolen beer and pork ribs.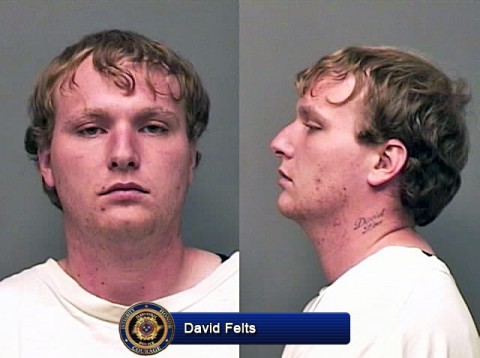 «Read the rest of this article»

Clarksville, TN – Willie Charles Cole was placed on three years probation, May 18th, 2012 for Theft of a Motor Vehicle and Vehicle Burglary. He was arrested again June 27th after he was caught driving a stolen 97 Isuzu Rodeo which had been stolen in Clarksville on June 25th.
Clarksville Police were called to the area of Stacker Street about a suspicious vehicle possibly dumping trash on the road. Officer Matt Ferrell spotted the vehicle on Short Stacker Street and then saw the vehicle run through a Stop sign.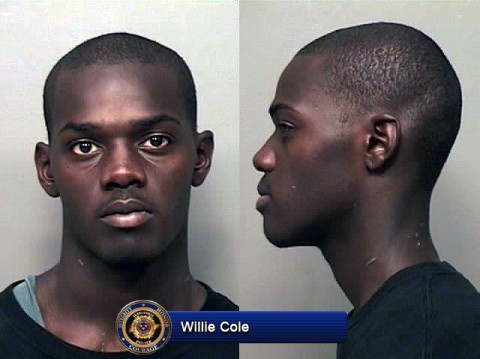 «Read the rest of this article»

Clarksville, TN – Clarksville Police are looking for James Derrick Cook (W/M, DOB: 6/29/88, Given Address: Clarksville, TN) who was on probation until 2022 for six burglaries and two thefts.
He had been furloughed from the jail in December 2011 to seek medical treatment, but failed to satisfactorily complete the program and did not return to the jail, as instructed by a court order, so an Escape warrant was taken out on June 11th, 2012.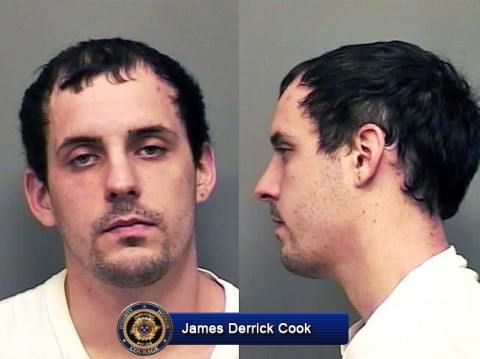 «Read the rest of this article»

Clarksville, TN – On March 8th, around 6:30pm, a 21 year old woman told Clarksville Police she had been robbed by three men at the intersection of McClure Street and Spring Street.
According to the victim, she was walking from a bar on McClure Street, a black vehicle pulled up next to her with three men inside, one of them pointed a gun at her and demanded money. She gave them approximately $1,000 and the vehicle drove away.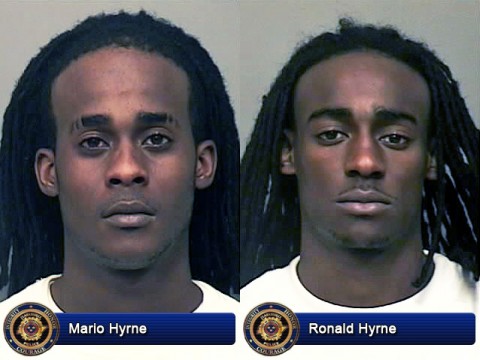 «Read the rest of this article»

Clarksville, TN – A man on probation until 2016 for Theft, with numerous previous felony convictions, now has Two warrants on file for Rape and has been successfully eluding law enforcement. The warrants were taken after investigations conducted by Detective Heather Boyce and Detective Eric Ewing.
Erastus James Mummery's (W/M, DOB: 12/17/83) Rape warrants stem from allegations of two separate incidents of rape occurring  with different victims, time frames, and locations. Detective Boyce's investigation was in reference to a September 2010 sexual assault which was recently reported.
«Read the rest of this article»