After a shoplifter is caught, cited, and released, he makes a beeline to another store to shoplift and is caught again.

Clarksville, TN – On September 25th, 2012, around 8:15am, Clarksville Police Officers were called to Kroger's on Madison Street about a man who had taken several cases of beer and meat and left the store without paying.
The man, David Felts, was located by officers at the corner of Golf Club Lane and Crossland Avenue. He was pushing a Kroger's shopping cart down the street loaded with the stolen beer and pork ribs.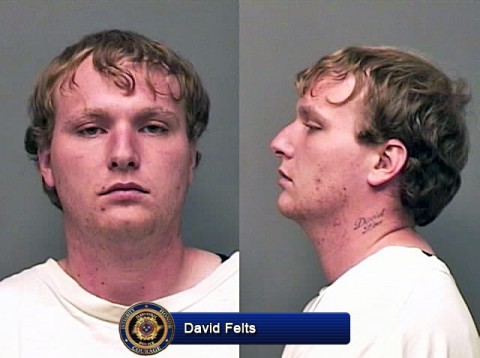 When officers queried Felts, he was unable to produce a receipt nor did he have any sort of money or bank card in which to purchase the items in his possession.
Also, a Kroger's employee identified Felts as the man who had taken the property from the store without paying. Officers Brad Holder and Jonathan Spoon misdemeanor cited Felts and released him.
But, Felts did not let his unsuccessful shoplifting attempt deter him and he headed directly to Publix to try again.
Around 10:00am, Felts was observed by Officer Robert Delgiorno, who was aware that Felts had just been cited for shoplifting, entering Publix. A short time later, Felts was observed exiting Publix holding the front of his shirt and it appeared as though he was concealing something.
Officer Delgiorno approached Felts and discovered that he had concealed four rib eye steaks on his person—two under his shirt, one inside the front of his pants and another down the back of his pants. Once again, Felts could not provide a proof of purchase.
Felts is already on Probation until 2017 for Aggravated Burglary and Unlawful Carrying of a Deadly Weapon.
David Felts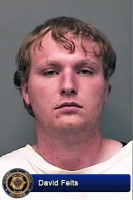 Name: David Lee Felts (W/M)
DOB: 12/9/86
Given Address: 1547 Golf Club Lane, Clarksville, TN
Arresting Officer: Robert Delgiorno
Charged With: Theft of Property
Booked Into: Montgomery County Jail
Bond: $500.00.