The enduring legend of the Bell Witch.
Everyone loves a good old-fashioned ghost story—especially one that involves real people and real places. Forty-five miles northwest of Nashville is the quiet town of Adams, Tennessee. At first glance, Adams appears to be a remarkably ordinary rural community. But the town welcome sign on old Highway 41—adorned with a broom-riding witch—tells you otherwise. Many municipalities would deny that anything out-of-the-ordinary occurs within its boundaries, but in Adams, unexplained paranormal disturbances are just part of the community's history. Since the early 19th century this small farming town has been home to the legend of the Bell Witch.

While historians disagree about the details, the general account of the Bell Witch haunting goes something like this: In the early 1800s, a farmer named John Bell moved from North Carolina to Adams, and was subsequently poisoned by the hand of a supernatural entity. For the next several years, Bell and his family were terrorized by paranormal disturbances of an unknown origin. Eyewitness accounts, reams of historical documents and numerous personal testimonies would indicate that something remarkable happened to the simple, God-fearing, Bell family. But the question remains, "What?" «Read the rest of this article»




Honestly I have tried hard to ignore the media on both sides and kept my opinions to myself. Those that know me know that this is not something I do very easily.

For the record I am conservative in my thinking but try hard to keep an open mind and give all an opportunity to voice their opinions. Many of my friends have differing views than mine when it comes to politics, but very few who disagree that much of what our Country was founded on is disintegrating before our very eyes. In the end, whether of liberal beliefs or conservative – we are ALL AMERICANS.

This did not just start yesterday, there has been an eroding of America for many years now. Those of you who are 30 or older need only look back to your years as a child, when we all said the Pledge of Allegiance in the classroom. Many of our children have never pledged allegiance to our Flag:
I pledge allegiance to the Flag of the United States of America and to the Republic for which it stands, one nation, under God, indivisible, with liberty and justice for all.
«Read the rest of this article»

Kayla Mikel, an Austin Peay State University nursing student, doesn't remember dancing with Drew Carey, the host of the TV game show "The Price is Right."
She appeared on the show as a contestant in July, during a visit to California with her family, but then three months passed before it finally aired this week on national television. A person can forget a lot in three months.
"I don't remember half the stuff I did," she admitted.
«Read the rest of this article»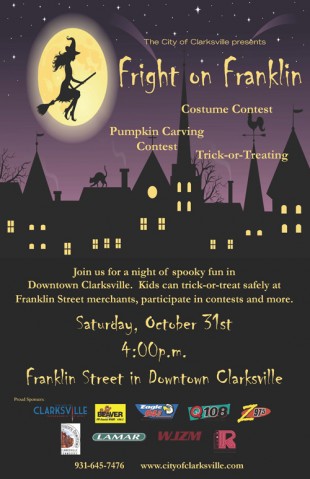 This year's first ever Fright on Franklin is set to take place Saturday, October 31 in Downtown Clarksville. The family friendly Halloween event is for adults and kids of all ages and provides activities such as costume contests, pumpkin carving contests and trick-or-treating.
Festivities begin at 4p.m. Local businesses will have booths along Franklin Street from 4-7p.m. where kids can trick-or-treat safely with the supervision of their parents.
Costume contests begin at 5p.m. Costumes will be judged in several age categories including Babies, Toddlers, Kids ages 5-8, Pre-teens ages 9-12, Teens ages 13-17, Adults ages 18-54, Seniors ages 55 & up and Dogs. All costumes should be in good taste and appropriate for a family event.
Among other activities, is the Pumpkin Carving and Painting Contest. Adults and children are invited to attend the Downtown Market on Saturday, October 24 where they may purchase and decorate pumpkins to enter into the contest. The carved and painted pumpkins will be displayed throughout Franklin Street businesses where they will be judged. The Carving and Painting contest is divided into several categories: Painting for ages 1-3, Painting for ages 4-6, carving for ages 7-9, carving for ages 10-13, carving for ages 14-17, carving for ages 18-54 and carving for ages 55 and up.
This is sure to be a night of frightful fun for everyone! For more details on the event and information about being a business vendor, contact the Clarksville Parks and Recreation Office at 645-7476 or visit www.cityofclarksville.com/parksandrec.
Related Images: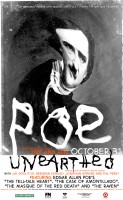 Journey through the mysterious mind of Edgar Allen Poe this Halloween. Saturday, October 31st, the Roxy Regional Theatre presents several tales from Poe's anthology.
Descend into the macabre madness of murderers, merry-makers, and haunted souls described in grotesque detail by a master of language. Jay Doolittle and three accomplices will bring to life poetic favorites such as "The Cask of Amantillado", "The Masque of The Red Death", "The Tell-Tale Heart", and "The Raven".
This special performance will be open to the public only on October 31st at 2pm and 8pm. Tickets are $15 for adults and $10 for kids 13 and younger. Purchase online at www.roxyregionaltheatre.org, or call (931) 645-7699 during regular box office hours (9am-2pm, weekdays).
A cornerstone of entertainment in historic downtown Clarksville, the Roxy Regional Theatre delivers live professional productions with skilled and experienced actors from across the United States. Roxy Regional Theatre is located at 100 Franklin Street.
The First Elk Hunt in 150 years  was held in Tennessee on October 19th-20th

CARYVILLE, Tenn. – The first-ever managed elk hunt in Tennessee has come to a close on just its second day as the fifth and final elk was harvested by Franklin resident Tami Miller late Tuesday afternoon at the North Cumberland Wildlife Management Area.
Miller etched her name into the record book with four other sportsmen who had harvests on the opening day, Monday. Miller's elk was a 5×6 (5 antler points on one side, 6 on the other) with an estimated weight of 700 pounds.
Charles "Chuck" Flynn from the Rockford community in Blount County was confirmed as the first person to legally harvest an elk in Tennessee in almost 150 years. The life-long sportsman made his second shot attempt from about 100 yards shortly after 7:30 a.m. (EDT) as the elk stood on the edge of an open field. The elk field dressed at 520 pounds. Two other hunters, Craig Gardner of Parrottsville, and Ronald Woodard of Oak Ridge quickly followed with their harvests in an approximate span of 30 minutes. «Read the rest of this article»
Related Images:

TROY, Al. – Heavy rains caused the cancellation of the Troy Invitational final round, Tuesday. In fact, the early morning rain never allowed the final to even begin.
As a result, the Lady Govs were unable to build on Monday's second round 302 at the Troy Country Club. APSU shot 321 in the morning and finished sixth at 623. Louisiana-Monroe (607) was declared the winner followed by Troy (609).
"It would have been nice to see how we would have played today," APSU coach Sara Robson said. "Monday's second round just showed the potential we have."
«Read the rest of this article»
Related Images:
Kings Konnection announces the state-wide search for the next Mr. Tennessee.
Nashville – Kings Konnection, a national male competition system, has begun the state-wide search for the next Mr. Tennessee. The Competition, that is set to take place January 31, 2010 at Tennessee State University's Humanities Building, will promote scholarships for education or to pursue entrepreneurial endeavors. The winner will receive $1,500 along with other prizes and trophies.
The idea of the Mr. Tennessee Competition was created to advance educational and professional opportunities for men within the state of Tennessee and will provide scholarships allowing the participants to achieve their educational, career and personal goals. The competition is open for men aged 18-27 of all races, ethnicities, religious affiliations and origins. «Read the rest of this article»

Brentwood – After sweeping all three of its opponents last week, Austin Peay State University's volleyball team saw senior outside hitter Stephanie Champine and junior setter Sarah Alisaleh honored with Ohio Valley Conference weekly honors, the league office announced, Monday.
Champine, of Lambertville, Mich., earns her fourth "Offensive Player of the Week" citation as she ran her streak of double-digit kill outings to 19. She recorded 18 kills at SIU Edwardsville, Oct. 20, followed by a 12-kill outing against Eastern Illinois, Friday. Champine closed the week with a 22-kill outing against Southeast Missouri, her fourth 20-kill performance this season and third in OVC play. She averaged 5.78 kills per set and recorded a .342 attack percentage during the week.
Alisaleh, of San Antonio, Texas, earned her third "Setter of the Week" award after leading Austin Peay with 14.12 assists per set in three matches last week. She recorded 41 assists at SIU Edwardsville followed by 29 in the win against Eastern Illinois. Alisaleh's 43-assist performance against Southeast Missouri was her second-best outing in a three-set match this season. She quarterbacked an APSU offense that posted a .271 attack percentage during the week, including a .316 mark against Eastern Illinois.
Austin Peay, currently second in the OVC standings, begins a critical five-match road trip when it meets third-place Morehead State in a 7 p.m., Friday contest.
Related Images: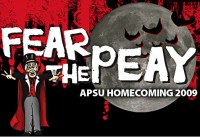 Austin Peay State University's Homecoming festivities continued last night with a visit by Paranormal Researcher Peter Jordan. Mr Jordan has spent 30 years investigating things that often cannot be explained by scientific means.
Peter Jordan traces his interest in the paranormal back to a childhood fascination with magic, nurtured by stories of the feats of Harry Houdini. As a young boy Peter spent many an afternoon imagining just how Houdini was able to do what he did. Houdini, after the death of his mother turned to spiritualists and mediums, but found them to be nothing but frauds, so he began debunking their "tricks." Thus it was a natural fit for Peter to become an investigator of the Paranormal as well.
«Read the rest of this article»
Related Images: