Topic: APSU Department of Geosciences

Clarksville, TN – Austin Peay State University associate professor of geography Dr. Christine Mathenge last summer sat on a rocky cliff at an ancient religious site in Kisii, Kenya, and stared at the meager, metal roof homes that glimmered in the valley below.
In addition to those homes, she saw several large boulders that could be used to create an elaborate economy of expensive flooring tiles, ornate sinks and carvings and sculptures, but the area's landowners have yet to tap the value of the rocks dotting their landscape.
«Read the rest of this article»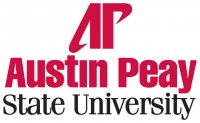 Clarksville, TN – An Austin Peay State University geosciences professor will present the next session of the Provost Lecture Series this week at APSU.
Dr. Christopher Gentry, associate professor of geography, will present at 3:00pm, Thursday, January 23rd, in the Morgan University Center, Room 303. «Read the rest of this article»

On July 27th, the City of Clarksville received confirmation from the Tennessee Department of Agriculture that the City will receive an Urban & Community Forestry Grant in the amount of $9,000 to incorporate new software into the tree inventory for a more detailed analysis of tree canopy.
CITYgreen is a program that enables a City to inventory, quantify, and analyze the tree canopy and its benefits for the entire city. The City purchased the CITYgreen software last year. However, for the program to work, an extensive digitization of the forest canopy is necessary. Through this grant funding opportunity, the City of Clarksville will retain the professional services of Austin Peay State University's GIS Center to digitize the canopy.
Delineation of forested areas in Clarksville, TN will be determined through analysis of images obtained from the National Agriculture Imagery Program (NAIP). Forested plots of greater than 1/4 acre will be digitized from NAIP imagery using ArcGIS 9.3. These polygons will be analyzed with CITYgreen for ArcGIS to quantify and examine the effect of forests on: storm water runoff reduction, water quality, air quality, and carbon storage/sequestration. Digitization of the forested plots will be performed by the Austin Peay State University (APSU) GIS Center and subsequent analysis will be performed by the City of Clarksville, TN. «Read the rest of this article»