Topic: Puerto Rico
AAA urges Americans to be informed when shaping 2016 travel plans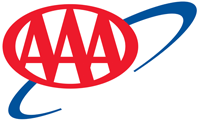 Knoxville, TN – Media publicity regarding terrorism, the stock market, and now the Zika virus is weighing on the minds of travelers, many of whom are turning to AAA for advice on whether they should alter their vacation plans.
AAA always encourages Americans to be cautious when traveling the world, and to be aware of any health or security alerts before leaving. Although much has been made about the Zika virus, and travelers should stay informed, Federal health officials have not issued travel restrictions to those countries with active virus transmission.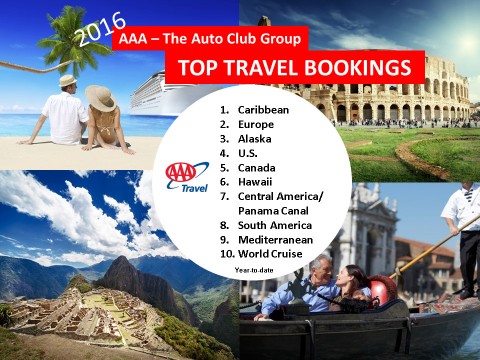 «Read the rest of this article»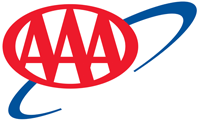 Tampa, FL – Falling crude oil prices have helped keep downward pressure on the price at the pump and drivers continue to pay prices unseen since 2009.
Today's national average price of $1.74 per gallon represents a savings of 6 cents per gallon since last week, 43 cents lower than a year ago. Consumers continue to save more than $1.00 per gallon versus the 2015 peak price.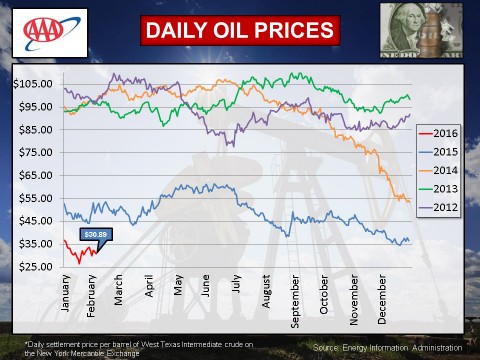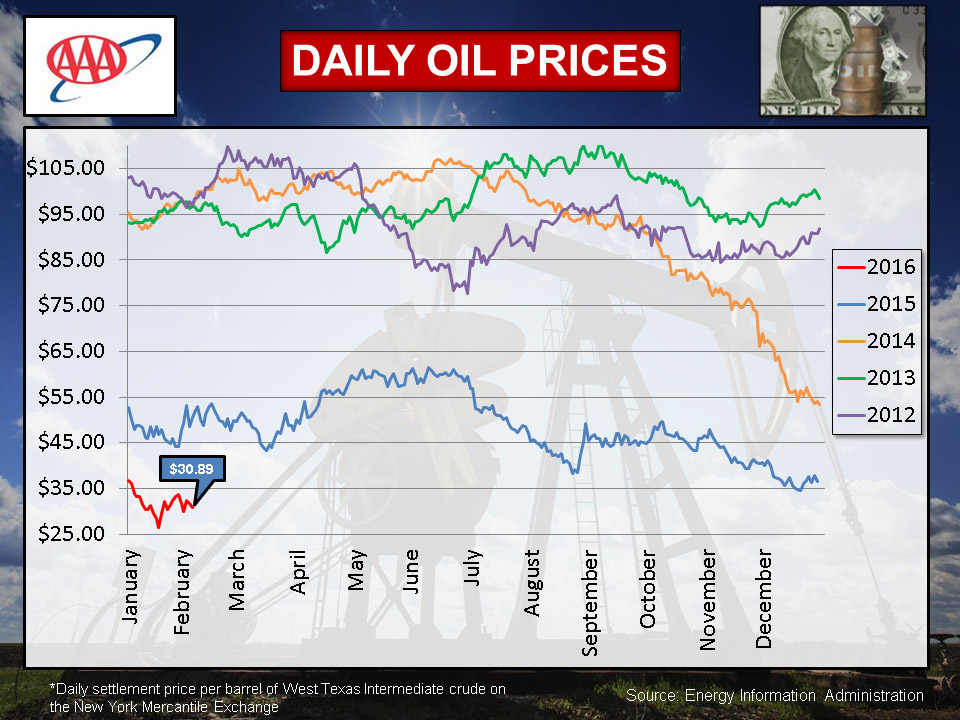 «Read the rest of this article»
Leading-edge restaurants impress knowledgeable guests with innovative menus and enticing surroundings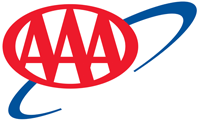 Knoxville, TN – Throughout the U.S., Canada and Caribbean, only two percent of restaurants are awarded the AAA/CAA Four Diamond Rating for 2016. However, four of them can be found in Tennessee.  
"These restaurants take great pride in attaining the Four Diamond Rating," said Don Lindsey, Tennessee Public Affairs Director, AAA – The Auto Club Group. "Tennesseans and tourists who dine at Four Diamond restaurants can expect personalized service, enhanced guest comfort and memorable experiences."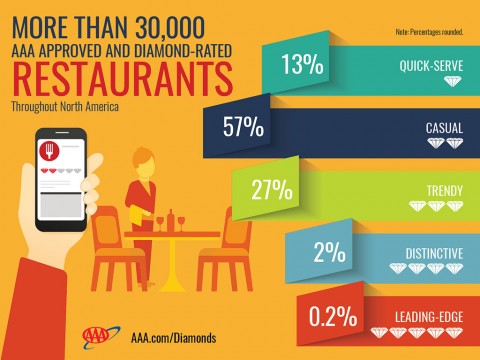 «Read the rest of this article»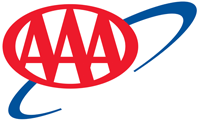 Knoxville, TN – Whether you attend or host a Super Bowl party this weekend, AAA wants everyone to celebrate safely. That means having a Designated Driver, calling a cab or staying where you are celebrating.
"Super Bowl weekend can be an exciting time for fans of the game, fans of commercials, or just fans of the show itself. But that doesn't mean you can play a game with your safety or the safety of others," said Amy Stracke, Managing Director, Traffic Safety Advocacy for AAA – The Auto Club Group and Executive Director of the ACG Traffic Safety Foundation. "If you're going to be out drinking, please plan ahead to make sure you and your loved ones get home safely."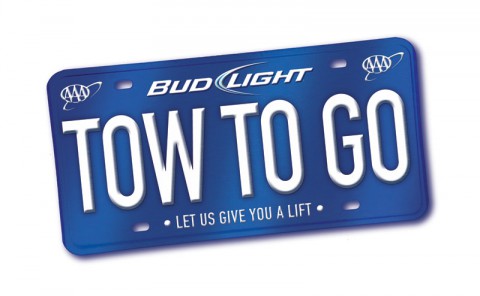 «Read the rest of this article»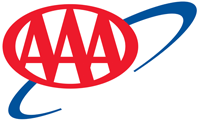 Tampa, FL – Gas prices continue falling at a rate of a half cent a day, despite increases in the price of oil last week. Crude prices rose more than $3.00 last week, while the national average dropped 3 cents.
Pump prices have fallen 25 out of the past 30 days. The current average price for a gallon of regular unleaded is $1.80 nationwide, $1.83 in Florida, $1.73 in Georgia, and $1.61 in Tennessee.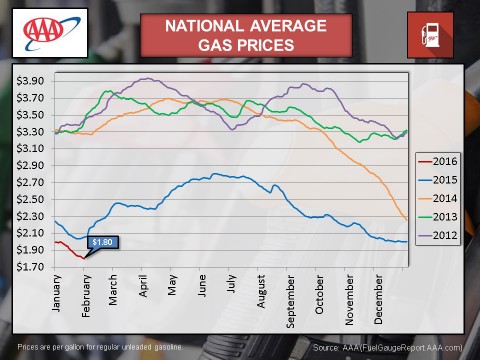 «Read the rest of this article»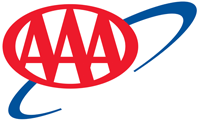 Tampa, FL – Gas prices are still falling even after oil prices increased during the tail-end of last week. Prices at the pump are dropping at a rate of about a half cent a day. The national average price for a gallon of regular unleaded is $1.83, 7 cents lower than a month ago, 21 cents lower than this time last year.
"Oil prices dropped like a rock last week, and took gas prices with them," said Mark Jenkins, spokesman, AAA – The Auto Club Group. "The low price of crude remains the primary contributor to discounts at the pump, making it cheaper to produce gasoline."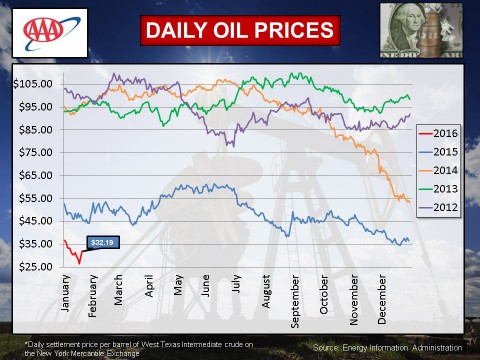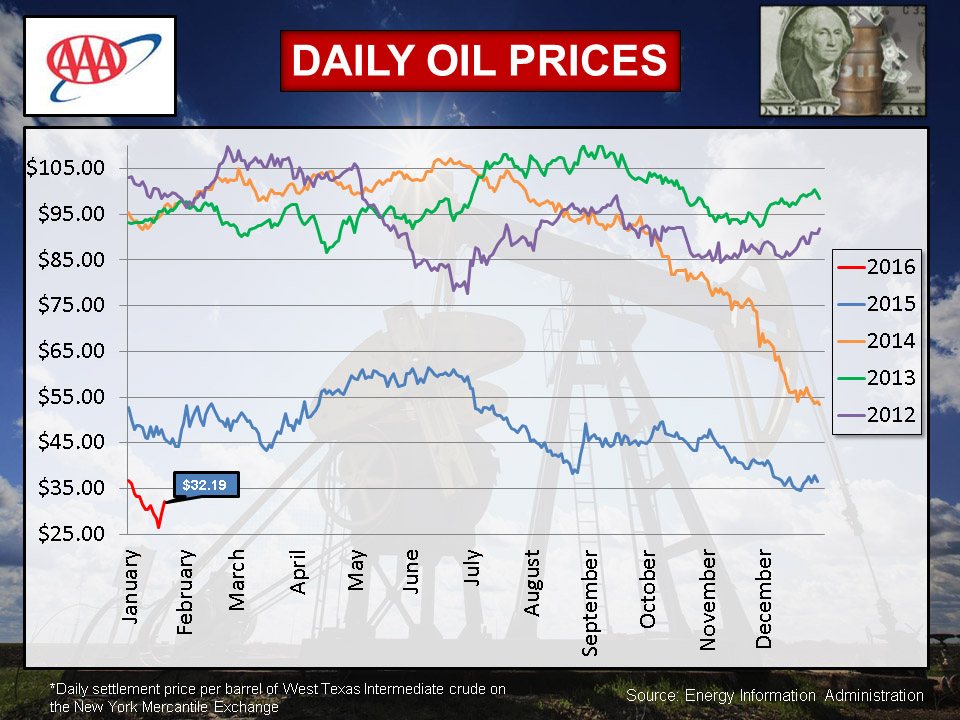 «Read the rest of this article»
Areas with Warmer Climates Present Need for Increased Protection Strategies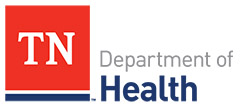 Nashville, TN – The Tennessee Department of Health cautions travelers headed to Mexico, Central America, South America, Hawaii and Caribbean islands including Puerto Rico and other locations with year-round warm climates to have increased awareness about the threat of mosquito-borne illnesses and to take appropriate bite protection measures.
The cautionary message follows a recommendation from the U.S. Centers for Disease Control and Prevention that all pregnant women consider postponing travel to areas where an emerging health threat, zika virus infection, is ongoing.
«Read the rest of this article»
UT Athletics Department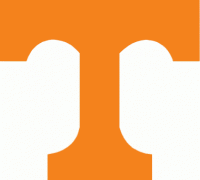 Tuscaloosa, AL – Tennessee couldn't hold on to a late lead in a 63-57 loss to Alabama at Coleman Coliseum in Tuscaloosa on Tuesday night.
The Vols led by as many as 15 points in the second half but faltered on offense down the stretch as the Crimson Tide were able to complete the comeback.
Kevin Punter Jr. led three Vols in double figured with 15 points, 13 of which came in the second half. Robert Hubbs III and Admiral Schofield chipped in 13 and 10 points, respectively.
«Read the rest of this article»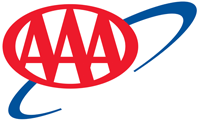 Tampa, FL – Extremely cold weather is moving across the southeastern U.S. and AAA warns motorists to be careful and make sure their vehicles are prepared for an emergency.
According to data from the Federal Highway Administration, each year, 24 percent of weather-related vehicle crashes occur on snowy, slushy or icy pavement and 15 percent happen during snowfall or sleet.
«Read the rest of this article»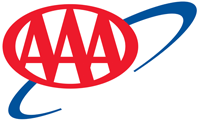 Tampa, FL – As oil slips to the lowest level in more than a decade, gas prices continue logging multi-year lows. The price of a gallon of regular unleaded is $1.89, the lowest national average since February 27, 2009. Gas prices in the southeastern U.S. are also at 7-year lows, with Monday's state averages hitting $1.92 in Florida, $1.80 in Georgia, and $1.68 in Tennessee.  
"Oil keeps sinking lower, making the cost to produce gasoline cheaper by the day," said Mark Jenkins, spokesman, AAA – The Auto Club Group. "Prices have dropped nearly a full cent every day for the past 11 days. This should continue until oil prices find their footing."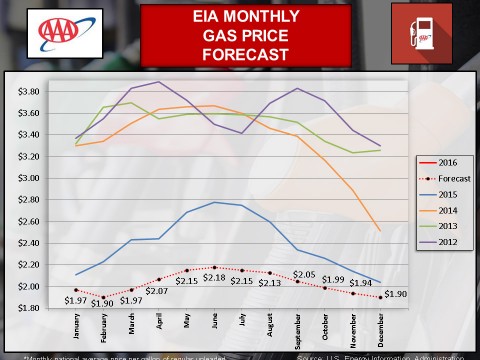 «Read the rest of this article»