A second round of frigid weather has placed a firm grip on the mid-south today. The National Weather Service's official forecast does not allow us to get above the freezing mark for over 48 hours. According to the official forecast, the Clarksville area could see temperatures bottom out in the single digits Thursday night. The wind chill, or "feels like" temperature, will dip below zero. After this week's blizzard in the Midwest and Northeast, our temperatures could dip even colder than currently forecast as a cold Arctic wind howls over a frozen snowpack laid down north of us. Old man winter won't let up on us this weekend either. In the extended forecast, there's a chance of seeing snow again on Saturday.
After last year's relatively mild winter temperatures and this year's bland winter, it is important to remember that cold weather can be hazardous, even without slippery, snowy roads. Here are a few precautions you can take to get through the big chill:
Dress in layers to keep warm. Avoid perspiration that could cause clothing to become wet by removing layers as needed. Make sure to wear a hat to reduce heat loss.
Bring pets indoors or insure they have an area that is sheltered and out of the cold wind.
Once the outdoor temperature dips below 20'F it's a good idea to leave faucets dripping and take measures to protect uninsulated pipes – particularly if the pipes are near a vent in the crawl space.
Keep your vehicle's fuel tank over halfway full to avoid ice freezing in the tank and fuel lines. It's also a good idea to keep blankets and an emergency kit in your vehicle in case you are stranded in the cold.
Check on the elderly. The elderly are much more susceptible to cold weather illnesses including hypothermia and frostbite.
Avoid overexerting yourself. This is especially true when shoveling snow or trying to free an automobile stuck in the snow. The strain from the cold and overexertion can cause heart attacks.
If you lose power and use an alternate heat source, make sure you have proper ventilation. Carbon monoxide poisoning is a very real threat during the winter months as people try to heat their homes during cold weather and winter storms. Carbon monoxide detectors are inexpensive and can be easily obtained from your local hardware store.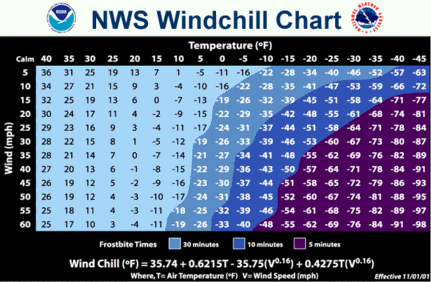 Once you're prepared for the cold weather that is upon us, you can sit back and enjoy Old Man Winter's last days in middle Tennessee with a warm cup of hot chocolate, and the kids can all daydream of snow days from school with the next snow possibility.
For more up to the minute weather discussion and updates, go to the Tennessee Weather Forum at Tennesseewx.com!