Monell's Restaurant in Franklin, TN, will reprise its highly successful Soldier Sunday program from 11-2. Proceeds from the event will benefit the Underwater Warriors Foundation, a non-profit organization that provides scuba training and certification as part of combined mind, body, spirit healing for severely injured soldiers.
The benefit luncheon is offered on the first Sunday of every month by Monell owner Michael King. The meal features home cooked family-style food. The August event drew patrons from across Middle and Western Tennessee, and soldiers participating in the program were on hand to meet their supporters for this unique program.
Underwater Training is held at Fort Campbell, and family members over age 10 are encouraged to share this training and learning experience with their wounded soldier in the safe environment of a pool. Discover Scuba classes are the first step toward certification in this activity and allows soldiers to "test the water" and the world of scuba before committing to open water dive training and certification. «Read the rest of this article»
The first time I watched Raiders of the Lost Ark (1981), I left the theater exhausted, as if I had raced through the adventure right alongside the now legendary Indiana Jones. I raced back to the studio with my partner Jesse and we wrote our review that night, taped our radio program in the wee hours of the morning for a 7 a.m. airtime, and made plans to see it again. That night.
Harrison Ford made the inter-gallactic leap from his dashing Han Solo of the futuristic Star Wars to the historic backdrop of pre-World War II and carved a niche in a second, equally swashbuckling role as a seemingly mild-mannered college professor with a secret life as a treasure hunter. Raiders hits the screen on a dead run, with 'Indy' scooping a golden idol and fleeing angry natives (Hovitos) in a plane that has the one thing he hates most: a huge snake. That 'little' weakness is endearing in this tough guy persona.
Indy is about to get the biggest challenge of his life in the form of a quest for a holy grail of sorts: the Ark of the Covenant, the supposed repository for the Ten Commandments of biblical fame. He has to grab it before the Nazis do, for whoever holds the covenant will rule the world.
Enter Marion (Karen Allen) as his gutsy former lover turned partner, a woman who holds her own against killers, conspirators, and all things evil. A Princess Leia for the 1930s. «Read the rest of this article»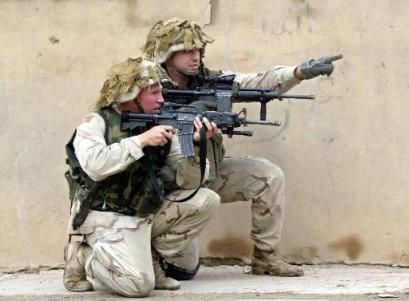 The mandated and much anticipated report on the status of the Iraq war isn't even out yet and already the backpedaling is under way: Pentagon officials are asking for revisions, Bush politicos want the standards set for a democratized Iraqi regime lowered to make the record of insufficient progress look better on paper, and the D.C. powers that be are taking the stance that "more time" is needed to pull the Iraq debacle together. After all, if you can't meet the standards (goals, objectives), dumb down those standards (goal, objectives). Seems to be working for America's Army recruiters …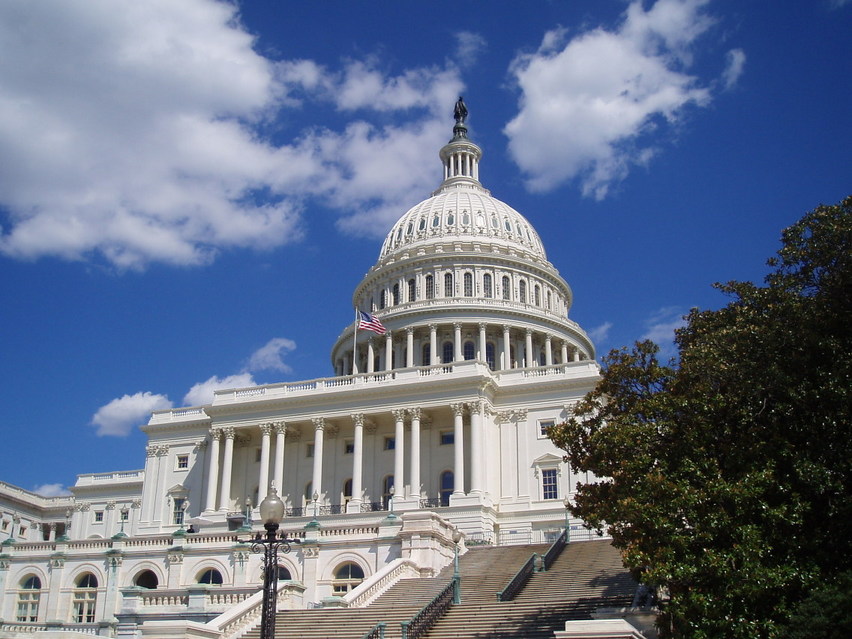 The report will be presented to Congress Tuesday, and President Bush will present his view of the data on September 15th in an attempt to validate his push for continuation of the multi-billion war effort and continued presence on Battlefield Iraq. The report, supposedly the product of military leaders including General David Petraeus in Iraq who are "assessing" the status of post-Saddam Iraq, is in fact being amended, adjusted and otherwise penned by the White House. Petraeus and U.S. Ambassador Ryan Crocker are expected to speak before Congress on the 11th or 12th of September. «Read the rest of this article»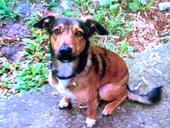 Just a year ago, on a hot muggy summer morning just like this, I was awakened by the yapping, howling, clawing of a manic, panic stricken dog who is credited with saving my life. He persistently prodded me to wakefulness as fire ripped through the central part of our house. I was able to get him out, and wake my son-in-law, who was sound asleep in another part of the house after a very late second shift night. We got out.
We grabbed a garden hose and were pouring water through the front door as firefighters arrived with bigger and better equipment. We watched as the windows that weren't blown out were pulled out with long handled poles. It didn't last long at all, but our losses were great and our extended family split apart.
As we stood beside the Red Cross disaster van, me barefoot in my pajamas with damaged glasses , singed hair and unsuspected burns, my son-in-law shirtless in jeans and barefoot, figuring out where we would all sleep that night, get food, clothing. The Red Cross disaster team helped pull it all together then, and the unexpected generosity of friends and neighbors and strangers did the rest. We are all okay now. And we haven't forgotten, we still appreciate, and we will always remember.
So for all of you, and you know who you are, who showered us with kindness, assistance in many forms, shapes and sizes, I would tell you that we are doing fine. And I would thank you all one more time. From the bottom of my heart. «Read the rest of this article»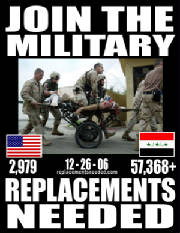 Replacements needed.
Despite the planned "surge" of additional U.S. troops in Iraq, the body count of American soldiers killed there seems to have slowed bit since the beginning of summer, but Battlefield Iraq remains bloodied — in many cases, by the lifeblood of bystanders caught in the crossfire of a war supposedly "won" over three years ago.
As of Tuesday evening, August 28, Iraq had claimed the lives of 3,732 American soldiers. The most recent is Pasadena, California, Marine, Lance Corporal Rogelio A. Ramirez, whose home base was Camp Pendleton; he became the latest US casualty, according to the statistical website icasualties.org. Ramirez died in Al Anbar province in "combat operations." He was #3732.
While the stream of flag draped coffins has slowed from the heavy casualty reports of early summer, the Iraq landscape remains soaked in blood. Four people, Shi'ite pilgrims to a religious site in Kerbala, were killed, and 18 others wounded today. In another Iraq city, 35 people were killed and 180 injured at a Shia religious festival. Now an estimated 1,000,000 pilgrims have been ordered to abandon a major spiritual celebration in Kerbala, told to simply leave the city and put their faith on hold as some of their numbers are being slaughtered and the rest are potential targets in a mix of civil and holy wars. And that's just today. The American body count will continue to climb with each day, each week of deployment. And American blood and Iraqi blood all look the same in the sand. «Read the rest of this article»
It's been a long, hot summer, and it's not quite over yet. The relentless heat has toppled records dating back 137 years in Nashville, and there hasn't been a lot of difference in the "feels like" heat between Nashville and downtown Clarksville.
Sunday marked the 32nd consecutive day of highs over 90, breaking a 53-year-old record, and setting another record — 24 consecutive days of 95+ temps. Middle Tennessee broke five daily high temp records in August.
Fifteen days in August saw temperatures top the 100 degree mark, more than twice as many as ever before recorded, and records have been maintained since 1870. «Read the rest of this article»
Whether you want a bit of handmade honey and nut cream cheese on your breakfast bagel or a slice of delectable carrot cake for a midday dessert, a little downtown eatery called Blondie's is the place to go. Sandwiches and coffees are their specialties.
When thinking deli sandwiches, one often thinks of "Dagwood's," those heaping stacks of fillings scrunched between slices of bread. Blondie's, while serving ample sandwiches, does it with a lighter hand, a delicate touch that is nonetheless filling and satisfying.
Apart from its wonderful food, Blondie's has a little something extra to offer its patrons: a chance to sit outdoors in a small atrium, a terraced garden spot with cafe tables, plants and a bit of shade, shelter from the summer sun. It's not big, but it's enough. It almost classifies itself as one of Clarksville's best kept secrets.
Inside this year-old dining spot, you'll find brick walls, high ceilings with dark overhead beams, soft lighting and a ceiling fan pushing comfortable cool air down, and comfortable seating with some tables overlooking Franklin Street and others neatly spaced along the narrow hall that leads to the outdoor patio.
Posters and pictures abound: vintage movie stars, a bit of Norman Rockwell, and a print of that famous World War II era "kiss" photograph celebrating the end of war. There's a wonderful painting of the bistro itself (pictured above right), done in brick red tones that captures the essence of Blondie's interior. «Read the rest of this article»
Ants. They're not usually a major problem. More of a minor irritation. But excessive heat and the combination of that prolonged heat and extreme drought is sending these critters scurrying right into your home — even if you haven't had big problems with them before. They are hungry and thirsty, and just looking a place to beat the heat and get well fed in the process. Are you an unwitting four star hotel for a local ant colony?
First, the basics. Ants come in a variety of shapes and sizes, from the carpenter ants who consume the wood framing of your home as if it were prime rib, to fire ants that make their presence known by, among other things, biting you. And then there are those pesky little brown ants who normally converge in small mounds in your backyard or in the cracks in the sidewalks and around foundations.
With the record-breaking heat wave, though, the ground is cooked, the pavement is hot enough to fry eggs on, vegetation is dead or dying, and rainfall is non-existent for the time being, which leaves ants hot, hungry and thirty. So what's a poor ant to do? Go visiting.
Now, I'm not against ants; they have their place in the strata of life on earth. I just don't want them in my kitchen.
If you're not careful those visitors will be on the way to permanent residency. Without a Visa. But there are steps you can to minimize the intrusion, remove it altogether, and implement preventive measures that can keep most intrusions from recurring. «Read the rest of this article»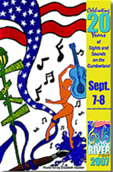 The countdown to Riverfest is on.
Clarksville residents can look forward to free admission for this 20th anniversary of Riverfest, a music festival, art show and family-oriented celebration of the city and its waterfront. The event will rev up September 7 and 8, with the festival running from 5-11 p.m. and Saturday from 10 a.m. – 11 p.m. Pictured at right,the winning poster for the 2007 Riverfest, a design by Elizabeth Hadden, celebrates the music and the community of Riverfest.
Two stages offer tough choices in music. The Miller Lite stage will be the setting for performances beginning with Nashville songbird Charlotte Medley, the Confederate Rail Road, Kentucky Head Hunters and more, with a playlist of rhythm and blues, rock, reggae, country, and more. This stage also hosts children"s programming on Saturday morning, including Mountain Marionettes and for the family, Dance Academy Performances. Fireworks over the Cumberland will cap the event at 9:15 on both nights.
Promoters are hoping that the weather will cool down from the unrelenting August highs of 90s and 100s, and settle into more seasonable temps, which with the addition of cooling river breezes, will make Riverfest festivities a perfect end-of-summer event. «Read the rest of this article»
With writers Rad Bradbury, Richard Matheson, and the prolific Rod Serling spinning their tales of mystery, magic, horror, humanity and intrigue, the Twilight Zone dominated the early years of television with stories that probed the human spirit and challenged our perceptions of the dimensions in which we live. Serling bent the time/space continuum and invaded the deepest parts of the human mind, and took all of us along for the ride.
Serling, creator of the acclaimed CBS show that ran from 1959-64, wrote 92 of the 156 stories that aired on this acclaimed series. The series drew not only the best writers but many acclaimed actors — those well established and those on the precipice of fame — newcomers including Robert Redford, William Shatner, Burt Reynolds, Robert Duvall, Dennis Hopper, Carol Burnett, James Coburn, Charles Bronson, Lee Marvin, and Peter Falk as well as such established stars as silent-film giant Buster Keaton, Art Carney, Mickey Rooney, Ida Lupino and John Carradine.
Here are some of the Twilight Zone stories that are one our favorites list:

Judgement Night has a former U-Boat captain turned eternal passenger wandering the decks of a ship he sank, condemned to cruise on the Queen of Glasgow with his victims for eternity.
The Escape Clause puts us into the mind of hypochondriac who makes a deal with the Devil to live forever. But forever takes on a whole new meaning when he in sentenced to life in prison. «Read the rest of this article»