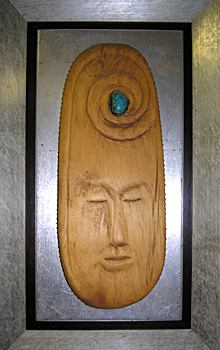 "…He has a magic touch that wakes up the wood he's carving or pours life into the ceramics that he's molding…"
Olen Bryant: A Retrospective opens at the Customs House Museum and Cultural Center on North Second Street on Saturday, September 15, featuring the best of Bryant's work. The exhibit will run through December 31, with an opening reception scheduled for Saturday at 6 p.m.
Bryant received the Distinguished Artist Award from Governor Phil Bredesen during a special ceremony celebrating the Governor's Awards in the Arts at the Schermerhorn Symphony Center in Nashville in March, 2007. He is a well-known sculptor and educator and has received national recognition for his work.
Bryant holds a Master of Fine Arts from Cranbrook Academy of Art and has studied extensively in the uSA and abroad. He is a founding member of the Tennnessee Association of Craft Artists and a Professor Emeritus at Austin Peay State University.
In presenting this artist, the Customs House wrote:
"Rarely does an institution have the privilege to present a retrospective of an artist whose quiet influence has profoundly affected so many people. As a teacher, friend and artist, Tennessee native Olen Bryant has been gently guiding generations to find their own artistic voices, while still following his own."
Bryant sculpture in wood, clay and stone for the early 1950s to the present has been assembled by guest curator Tom Rice.
Debbie Boen writes:  Before Olen moved away from Clarksville a few years ago, I'd see him at every one of the Roxy Theatre shows, at least a couple of times each show. He and his partner came to all the special interest movies at the Custom House Museum, and attended numerous lectures and shows at Austin Peay.
I still see him in our Library in the way that his carved wood pieces greet me on the second floor.  They seem to be alive; I always have to catch my breath when I see them. His work has been featured in local shows and contests, and he frequently gives pieces of his work to help the Roxy Theatre every year.
He's a quiet and very likeable man. I see Olen Bryant in Cheekwood, where an outdoor meditation area has one of his pieces as a vocal point. I see his influence in the works of his students, Tom Rice and Michael Adams. Their pieces adorn the Custom House museum and other Clarksville sites.
Olen Bryant: a quiet man whose silence says so much. I often wonder if he has some magic touch that wakes up the wood he's carving or pours life into the ceramics that he's molding. I don't really know him well at all, but I have felt honored to have lived in the same town, to have seen him around, and to have had the opportunity to experience his work. He's a legend.
The reception is free and open to the public on Saturday, September 15, 2007, from 6 p.m. to 8 p.m.
Picture from: theframemaker.com sculpture by Olen Bryant