Topic: Sculpture

Clarksville, TN –  To pay tribute to a student population at the very heart of Austin Peay State University's (APSU) mission, work recently began on a permanent art installation on the University campus, titled "The Cardboard Kids: Monument to the Non-Traditional Student."
Non-traditional students come in all shapes, sizes and backgrounds. For some, marriage and a family changed their priorities, while others may have enlisted in the military or simply decided a four-year college wasn't right for them after graduating high school.
«Read the rest of this article»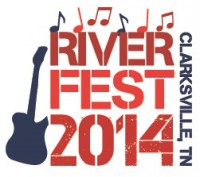 Clarksville, TN – Riverfest Tour d'Art kicks off tonight in conjunction with the First Thursday Art Walk with the High School Division exhibit reception. Art enthusiasts are invited to explore exciting treasures created by local artists. Artwork is juried and over $2,500 in prizes will be awarded.
The High School Division reception, sponsored by CDE Lightband and hosted by the Customs House Museum & Cultural Center and Arts and Heritage Development Council takes place, Thursday, September 4th from 5:00pm to 6:00pm at the Custom's House Museum.
«Read the rest of this article»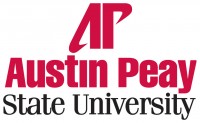 Clarksville, TN – In June 2012, local artist Mike Andrews returned to Austin Peay State University to restore an outdoor sculpture he'd installed on campus in 1985.
The piece, "Light Modulator," was placed on a small, grassy hill outside the University's Kimbrough Building, where it sat for almost three decades exposed to not only the sun, but also strong winds, downpours, numerous ice and snowstorms and the slow but relentless advance of moss and lichen.
«Read the rest of this article»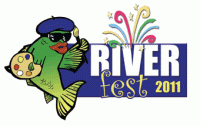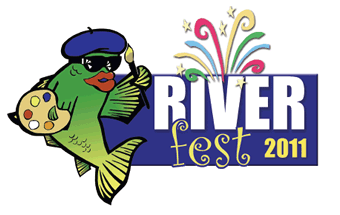 Clarksville, TN – While most people focus on the riverside festival that is associated with Riverfest, the Clarksville-Montgomery County art community is strutting its stuff. The High School Art Exhibit is traditionally held at the Customs House Museum and Cultural Center where curators stage a spectacular array of student art forms.
This year's exhibit of talent from Clarksville High School, Northwest High School, Northeast High School, Clarksville Academy, Montgomery Central High School, Dickson County High School, and Christian County (Kentucky) High School stunned its viewers with exceptional talent. This juried show had 57 entries on exhibit from the more than 100 possibilities submitted by students.
«Read the rest of this article»
Simen Johan: Until the Kingdom Comes Opens in Gordon Contemporary Artists Project Gallery
February 20th, 2011
Nashville, TN – The Frist Center's Gordon Contemporary Artists Project Gallery will feature Simen Johan: Until the Kingdom Comes, comprising nine large-scale digital photographs and three sculptures. The exhibition opens February 20th, 2011, and will remain on view through May 29th, 2011.
Often showing wild animals in natural settings, Johan's photographs may seem like National Geographic idylls writ gloriously large. Yet while appearing to be straightforward documents of nature, the works have an underlying allegorical content. The majestic creatures seem to occupy the titular "kingdom," an ideal place where desires will be fulfilled and life's dilemmas resolved. But contained within each image are imperfections that bring this utopic implication back to reality. «Read the rest of this article»
Works in U-Ram Choe: New Urban Species exhibition mimics living organisms
NASHVILLE – The Frist Center for the Visual Arts will feature seven works by Korean kinetic artist U-Ram Choe in an exhibition opening to the public Feb. 19, 2010. U-Ram Choe: New Urban Species will be on view in the Gordon Contemporary Artists Project Gallery through February 19th-May 16, 2010.
U-Ram Choe's kinetic sculptures are made of delicately curved sections of wrought metal, joined together in movable parts that are driven by motors to expand, contract, or otherwise suggest the autonomic motions—such as breathing or swimming—of such primitive life forms as plants and single-celled aquatic creatures. The intricate workmanship and graceful movements of these mechanical sculptures offer viewers an unparalleled visual delight.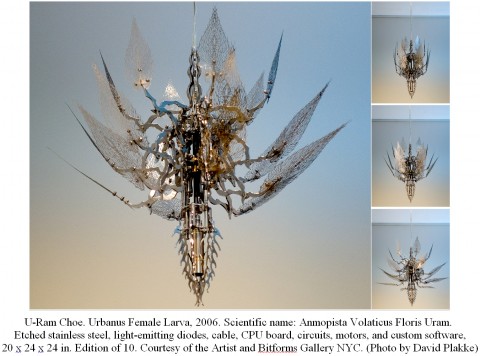 «Read the rest of this article»
In the last two years, Gregg Schlanger, professor of art at Austin Peay State University, has processed 75,000 pounds of Memphis mud to make 7,000 bricks for a community-based public art project he was commissioned to build.
And after countless trips to Memphis for research, meetings and hard labor, the effort – which proved to be a true example of community involvement – is complete.
At 3 p.m., Dec. 13 in Memphis, a dedication ceremony will unveil Rugby Gates, a series of brick gateways along a main road in the Rugby neighborhood of Memphis. Schlanger will be among Memphis dignitaries and local residents to attend the event.
Rugby Gates marks a neighborhood where the original brickyards of Memphis were located. The project was commissioned by The Urban Art Commission, which administers the public art program for the city of Memphis. The concept for the project developed following several meetings with city officials, neighborhood organizers, local schools and extensive research on the history of the area.   «Read the rest of this article»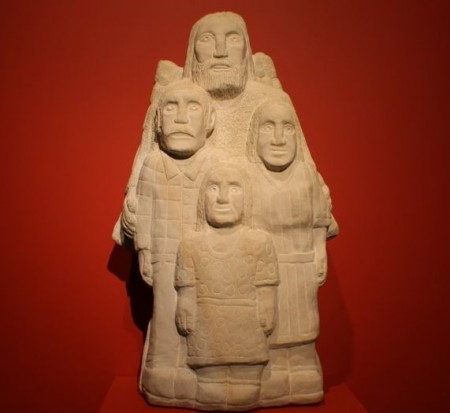 Time Made Real: the Carvings of Tim Lewis, is showing in the Bruner, Crouch and Orgain Galleries through October 31. The exhibit features the life and work of renowned carver Tim Lewis from Kentucky. Lewis is one of America's premier living self-taught artists.
After this debut at Customs House, selections from the exhibit will travel to the Columbus Museum of Art (Columbus, Ohio) and Mennello Museum American Art (Orlando, Florida) before closing the tour at the Kentucky Folk Art Center at Morehead State University.
Sixty pieces of Lewis's work have been gathered from twenty-two public and private collections from across the Southeast and Midwest by guest curators Bruce and Kathy Moses Shelton. Works exemplify the full range of Lewis's ability to tell a story from his first Noah's Ark to his most recent, Win, Place & Show, an homage to the Kentucky Derby. Mining the experience of family and home, as well as a trove of legends and beliefs accumulated over a lifetime, Lewis has created a body of work that emerges as a visual narrative rich in its 'telling.' «Read the rest of this article»
While On the Road in America, I continually look for unique and interesting places and people. In Barre, Vermont, I found just such a special place, a landscape irrevocably linked in life and death to the people of this community whose work is art in its highest form.
Ten years ago friends introduced me to Hope Cemetery, first in a quick drive-by on the way to somewhere else, and later, for a "quick" tour that became a lengthy monument-by-monument tour. For these monuments are like no others. They honor the dead, but are of themselves museum quality works of art and imagination that attract a flurry of annual visitors from all over the world. The granite monuments, carved from Barre's own Rock of Ages Quarry, rank as the best granite craftsmanship in the world. Most people do not realize that many of the monuments across our country are crafted from Barre (and other Vermont) granite.
I walked the peaceful, quiet grounds, awestruck by the ingenuity of many of the stones, and by the willingness of the creators to step beyond the traditional "names and dates of life and death" inscription and create memorials that capture the essence of individual in the form of a hobby, a career, a love, a memory…
To say that the images unfolding here are breathtaking is an understatement. I was walking through an open air museum of the finest art. «Read the rest of this article»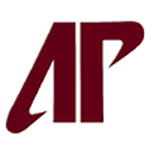 Anomaly, an exibition by Sam Matthews, will be shown at Austin Peay State University Department of Art in the the Don Jenkins Gallery at the Morgan University Center.
Anomaly will premiere at 7 p.m., Monday, April 7 in the Don Jenkins Gallery, located on the third floor of the Morgan University Center with a reception on opening night. The exhibition will remain on display until Wednesday, April 10 and is is free and open to the public. Matthews is an art major on track to receive his Bachelor of Fine Arts in Sculpture in May.
A resident of Clarksville, Matthews's exhibition will consist of several large wood sculptures, which he describes as, "large ambiguous forms meant to entertain the eyes and create visual significance by arousing curiosity in the viewer." «Read the rest of this article»