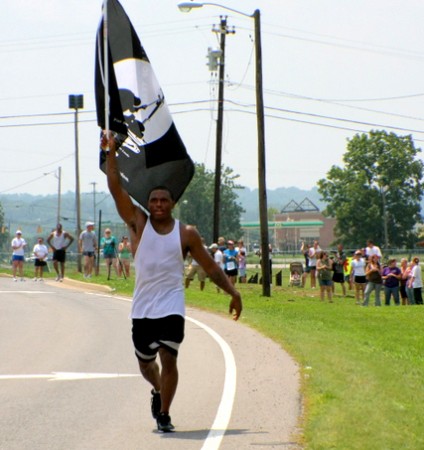 THE MISSION: RUN ONE MILE FOR EVERY SERVICE MEMBER KILLED IN OPERATION IRAQI FREEDOM.
Run for the Fallen raced through Clarksville Saturday, a little-heralded event that deserved far more attention than it received. Despite Saturday's (August 2) oppressive heat and humidity, the runners, friends, family, military and former military honored their commitment to run one mile for every service member killed in Operation Freedom, running a route that traversed Fort Campbell Boulevard, and Riverside Drive before coming to a temporary halt at the Clarksville Jaycees adjacent to the fairgrounds, where welcomed refreshments including cold drinks and fresh fruit were provided.
As the seemingly tireless runners arrived, they were greeted by cheers and applause from a small but enthusiastic group of Clarksvillians, including Clarksville online author Debbie Boen and a young man named Randall Holder.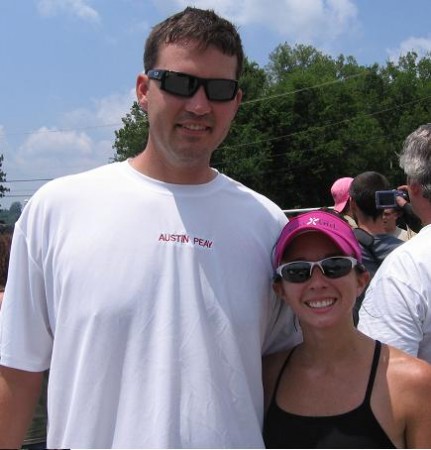 Soft spoken Randall told Debbie that his flag had laid on his father's casket. Leon William Holder had served in the Korean and Vietnam wars. Randall is a vet of Desert Storm and his grandfather served in WWI. The Holder family has always felt a deep dedication to this country. And growing up in a military family always brought him knowledge of other cultures and an extended family that included all the military. Holder's flag became the backdrop for many photos of the day's runners.
On Flag Day, June 14, 2008, a dedicated team of runners began running across America from Fort Irwin, Califronia, to Arlington National Cemetery, one mile for every Soldier, Sailor, Airmen, and Marine killed in Operation Iraqi Freedom. For ten weeks, team members will mark each mile with an American flag and sign cards in an a political reflection of remembrance of each service member. The coast-to-coast route covers four thousand miles over 13 states.  (You can look up the name/location of your soldier and his flag on a flickr link on the Run for the Fallen website.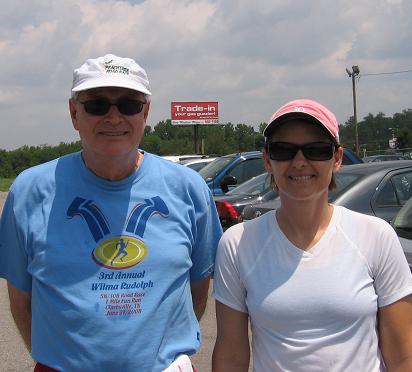 Boen was early on the scene, soon joined by Scott Combs and Boris Becker. Combs' wife was in the run; Scott said that his wife Casey had heard about this event through a web site of the running group called R3. A small crowd began arriving, including Larry Faust and Tina Dotson, who were getting ready to take up the run from Fairgrounds Park to Montgomery Central High School on the way to Cunningham. They were running to remember and pay tribute to the fallen soldiers. Tina's husband has been deployed 13 times. Some of their friends have not made it back.
With a police and military escort, the runners ran through the city, flags in hand and held high, as their fans waited until the last of the runners arrived at their indoor "cooling station."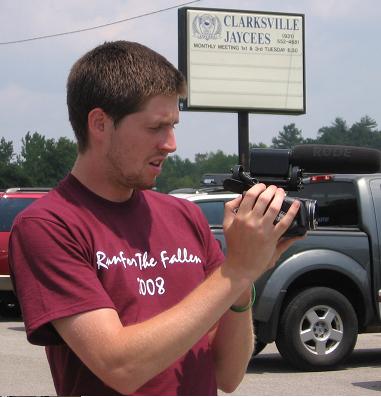 At the Jaycees, each runner was presented with a gift. Inside the air-conditioned facility, platters of fresh cold fruit, bagels, and an assortment of drinks were ready to serve. Music for the event was provided by J.B. Parker and his grandfather, Vernon Green.
While a core group of runners are going cross country, they also collect part time runners along the way, people who join up to run one, ten ot twenty miles of the race for their loved ones. The next leg of this unique commemorative journey was a ten mile stretch toward Cunningham.
Run for the Fallen is traveling with a team of videographers filming this journey for a documentary to follow the run.
Photos by Bill Larson and Debbie Boen